Benefits of a Sanitary Bidet for Seniors
The "golden years" – these are supposed to be the years we get to enjoy ourselves. The kids are grown and gone, raising their own families. We've retired and are now able to actually enjoy the savings we've tucked away. Unfortunately, it's also the time we discover a lot of new aches and pains in the form of arthritis, muscle and bone loss that simply come with age. Some of those things make daily tasks difficult or even painful. A Sanitary Bidet will make some of that a little easier on you. No having to reach to wipe yourself, no worries about spreading bacteria, just a gentle spray of purified water washing the germs down the toilet and keeping you fresh. Another side effect of aging is our skin getting thinner and more sensitive. With a bidet, no harsh toilet paper to risk tearing that gentle skin. Just a soft stream of water cleansing your privates and washing all of the bacteria away.
As we reach our senior years incontinence also becomes an issue. That quite often can lead to a need for adult "diapers" or special pads at the very least. This quite often means a much less than fresh feeling, concerns over odors and itching. A Sanitary Bidet from an American bidet company could be the answer to your problems. No remodeling of the bathroom is necessary, no big expensive new toilet, just a simple attractive attachment to your current toilet and you're in business! Life will never be the same for you. There's even a travel model so you can have your Sanitary Bidet with you anywhere you go. You can stay fresh and clean everywhere.
While seniors face some medical issues such as incontinence, arthritis, osteoporosis, muscle loss, bone loss, heart disease and other problems… it doesn't mean the quality of life has to be diminished. There are many things seniors can do to enhance the quality of their lives including the use of a Sanitary Bidet. There is nothing that will make the senior feel cleaner or fresher than a new bidet. It will also help ease the symptoms of many illnesses seniors face… hemorrhoids are eased tremendously by a Sanitary Bidet. Seniors also face the risk of spreading bacteria and developing illnesses such as bladder infections that can be eliminated through the use of a Sanitary Bidet. No using your hands means no spreading of bacteria from one part of the body to another. That also means less chance of spreading bacteria such as e-coli in the bathroom or throughout the house. You save money on toilet paper use which also means a savings on the water bill as it requires less water to wash your privates than it does to flush the toilet paper. A Sanitary Bidet is literally a life changer. For most people that try one it's hard to imagine ever going without one. Many even take a travel bidet with them to guarantee they aren't without their bidet. A Sanitary Bidet is an affordable luxury that will surely make any senior's golden years what they should be.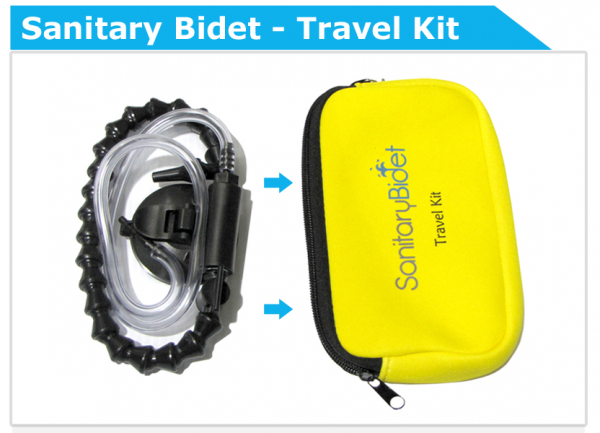 Sanitary Bidet, an Affordable Luxury,
by Wolf Products, an American Company based in Texas.
Their bidet toilet products include a Sanitary Bidet Toilet – Mounted Bidet
and a Sanitary Bidet Portable Travel Bidet
 Ordering and other information for the Sanitary Bidet
is available by calling toll free 1-877-401-7252 or 281-548-2323
Visit Sanitary Bidet Website
Join Sanitary Bidet on Facebook