Southeast Texas Senior News- The End is Near for Paper Checks
Financial News for Seniors in the Southeast Texas and Lufkin Region
The End of Paper Checks
On today's edition of Southeast Texas Senior News, we look at the increased popularity of electronic payments, particularly in federal payments to our SETX senior citizens. .
The U.S. Department of the Treasury has extended the safety and convenience of electronic payments to all Americans receiving federal benefit and non-tax payments.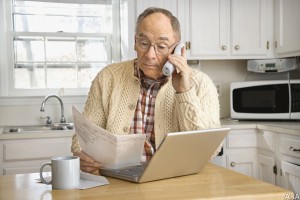 Electronic Payments – convenient for SETX seniors and a savings for the whole country
This important change has provided significant savings to American taxpayers who no longer incur the annual $120 million price tag associated with paper checks and saves the Social Security Administration $1 billion over the next 10 years."
All Social Security, Supplemental Security Income, Veterans Affairs, Railroad Retirement Board, Office of Personnel Management benefits and other non-tax payments are now made electronically. Benefit recipients have the option of direct deposit into a bank or Southeast Texas federal credit union account of their choice or into a Direct Express (R) Debit MasterCard (R) card account. More than 1.5 million beneficiaries are signed up for the Direct Express (R) card – a prepaid debit card.
Are you soon to receive federal benefits? If you wish to direct their money into a bank or credit union account, you will want to have the following information on hand at the time you apply for benefits:
Financial institution's routing transit number (often found on personal check)
Account type – checking or saving
Account number (often found on personal check)

Southeast Texas senior citizens who do not have an account at a financial institution or prefer receiving their payments on a prepaid debit card can receive a Direct Express (R) card.
Switching to electronic payments is easy
Southeast Texas senior citizens can get your questions answered by calling the U.S. Treasury Processing Center's toll-free helpline at 1-800-333-1795, or by speaking with their bank or Southeast Texas credit union representative.
We hope today's edition of Southeast Texas Senior News has been beneficial.
Stay tuned for more senior news right here on SETXSeniors.com.

Daryl Fant, Publisher

Senior Resource Guide for East Texas and The Golden Triangle

Call for help marketing to seniors:

(512) 567-8068

E-mail us:

SETXSeniors@gmail.com