Tips to help Southeast Texas Seniors fight against medical identity theft and fraud – Sponsored by EPO Eastex Physican Network
With millions of Americans slated to gain access to healthcare under the Affordable Care Act, many Southeast Texas seniors may find themselves unknowingly at risk for medical identity theft, a crime that costs the country $41.3 billion annually. In the United States, an estimated 1.5 million people have their ID stolen each year.
Stolen medical identities often fuel another crime: prescription drug fraud and abuse. Thieves can use stolen information to illegally obtain prescription drugs and sell them on the secondary market. Illegal drug diversion costs the nation $73.5 billion each year, and prescription drug abuse is responsible for more deaths than heroin and cocaine combined.
The following tips help Southeast Texas seniors fight against medical identity theft and fraud:
* Guard your card: Protect your medical identification card at all times and keep it in a safe and secure location. Some healthcare companies, like Express Scripts, have Fraud, Waste and Abuse programs in place to identify fake or forged prescriptions and other signs of fraudulent activities. If your card is lost or stolen, immediately alert your insurance company.
* Throw away with caution: When throwing away prescription bottles and vials, remove the labels or black out your personal information so it is illegible. When throwing away documents containing protected health information, shred the documents instead of discarding them in the garbage.
* Protect your personal information: Be alert to impersonators or email phishing scams asking you for your personal information and never give out your passwords over the phone, internet, or via email. If you are unsure, call the company directly to inquire about the request.
* Be privy to privacy policies: Before agreeing to the privacy policies of anyone you do business with, read through their policies in detail to completely understand how your personal information will be used. If you have questions, request more information.
* Lock up your bottles: Keep your prescription bottles hidden or locked away, especially during the holiday season when you may have an increase in visitors that will have access to your personal belongings.
* Read your statements: It is important to carefully read any explanation of benefits (EOB) statements you receive from your health plan after treatment to make sure the services listed are accurate. Review the name of the provider, the date of service and the service provided. If it includes information that does not look familiar, be sure to immediately report it to your health plan provider.
Eastex Physician Network – EPO is dedicated to providing comprehensive medical information to Southeast Texas seniors.
Any time you need a doctor contact the EPO Network for a physician that will provide coordinated care, ensuring you receive the best advice, information, and treatment.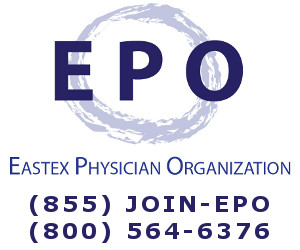 Message sponsored by EPO, Eastex Physician Organization.
EPO Southeast Texas is a network of local doctors, specialists, and clinics who work as a team to ensure Southeast Texas senior medical care is of the highest quality.
Working with Eastex Physician Organization network doctors can help ensure each doctor knows about all stages of your treatment and can be critical in helping to avoid conflicting prescriptions.
Interested in learing more? Call EPO today.