Harbor Home Health provides In Home Occupational Therapy for Southeast Texas Seniors
Strokes, falls, and other issues relating to age can lead Southeast Texas seniors to a need for occupational therapy. Many Southeast Texas senior citizens are turning to Harbor Home Health so that occupational therapy may be provided in the home.
The benefits for Southeast Texas seniors of in home occupational therapy through Harbor Home Health include:
Convenience

Safety
Comfort
Privacy
Program tailored to your home and your lifestyle
Occupational therapists are gifted at assisting with a wide range of rehabilitative needs: learning to control muscles after a stroke, learning to bathe comfortably after a bad fall, learning how to perform tasks after partial paralysis, and much more.
Occupational therapists begin with a detailed evaluation of the patient's ability to perform the normal activities of daily living.
Then, Southeast Texas occupational therapists help determine what hindrances exist to returning to a state of independence and develop programs that help restore function.
The Harbor Home Health occupational therapist's evaluation includes identifying hindrances such as reduced muscle strength, decreased coordination, or difficulty bending or reaching items without losing one's balance.
The occupational therapist will then provide a program to address these key issues and help the patient adapt to their environment.
Patients who have had a stroke or cardiac episode, spinal cord injury, orthopedic surgery, or severe arthritis can all benefit from occupational therapy services. The physician can make the determination of the patient will benefit from occupational therapy.
If you are going to have occupational therapy, it can be ideal to have it at home as part of your Home Health Care. Harbor Home Health has the experts and experience providing these services in the privacy of Southeast Texas Seniors' homes.
Comprehensive assessment and treatment by your occupational therapist can include:
Home Safety (preventing falls, moving furniture to clear paths, setting up a safe shower system)
Pain assessment and management
Upper extremity strength and range of motion
Bathing (after an accident or illness, some things can be "relearned" in new ways that will be easier going forward).
Dressing
Grooming
Improving Coordination
Vision and perception training
Home exercise program
Patient education – teaching you what you can do by yourself and what to expect
Work simplification: "work smarter, not harder".
Personal energy conservation
Protecting your body's joints
Adaptive equipment assessment and instruction
Independent living training
Homemaking instruction including laundry, meal preparation, and light house work
If your doctor has indicated a need for occupational therapy ask him about handling it at home as part of Home Health Care or call Harbor Home Health: (409) 835-1670.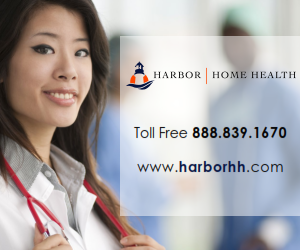 Harbor Home Health has an excellent track record of service to Southeast Texas seniors.