Make Room for More Family!
Make room for family: Whether  updating bedrooms or bathrooms, Americans are making home improvements to accommodate more family members moving into their homes.
A combination of hard times and an aging population increased the number of U.S. households with multiple generations living under one roof, according to AARP. In 2010, 7.1 million U.S. households – or 6.1 percent of homes – were multigenerational. Compare that to 2000, when just 5 million households were multigenerational.
"Whether you're caring for an aging parent or making room for adult children, grandchildren or other relatives, completing practical remodeling projects can add living space, help reduce home maintenance time and save energy," says Kathy Krafka Harkema, spokesperson for Pella Corporation.
Remodeling tips
Considering remodeling? Check out the hottest small-project remodeling trends for 2011, from the National Association of the Remodeling Industry (NARI). As you're planning, incorporate universal design principles to help make your home safer and more functional.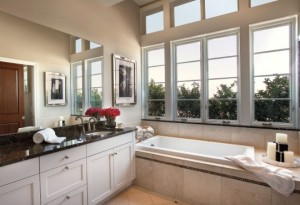 Bathroom renovations
Updating bathrooms? Add slip-resistant surfaces to minimize potential falls in bathtubs and showers. Walk-in showers and safety bars are also smart choices.
Paint is an easy upgrade. According to Buzzle.com, one great bathroom paint idea is to use brighter colors like lime green, citrus yellow, butterscotch yellow or cream to create the illusion of space and make a small bathroom look larger.
Necessary repairs
As they update their homes, consumers are fixing problems, like replacing broken hardware and glass on windows and doors. For safety's sake, make sure your windows and doors are not jammed, painted or nailed shut. If they are, it could be time to replace them.
"Pella offers energy-efficient windows and doors with cordless blinds or shades between-the-glass that are easy to operate and safer for homes with children and pets," Krafka Harkema says. "Plus, since the optional blinds or shades are between glass, they don't need cleaning."
Patio and outdoor rooms
Staying home more? Spending more time in the yard? Creating a new patio area off a kitchen or dining room can add space for entertaining. Install energy-efficient sliding or hinged patio doors, like the Pella 350 Series vinyl patio doors, to help save energy and create beautiful views.
Hiring a skilled contractor
Today's consumers are more diligent about choosing the right contractor for the specific job they need done, NARI reports. Ask for referrals for a reputable licensed, bonded, insured contractor and check credentials.
Opening up rooms
As you remodel, consider removing interior walls to create extra space in high-traffic areas like kitchens or bathrooms. Add 36-inch doors to make it easier to move about your home.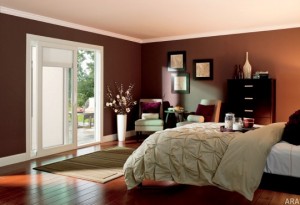 Adding bronze
Choose bronze finishes like oil-rubbed bronze, when replacing missing or broken hardware on windows or doors. Bronze is also popular in bedrooms, home offices and kitchens. Replace small knobs or round pulls on doors, drawers or cabinets with levers and larger pulls that are easier for arthritic hands to operate.
Go green and save
Now's the time to replace your home's drafty single-paned windows with more energy-efficient wood, vinyl or fiberglass windows.
"Many U.S. homes still have energy-wasting single-paned windows," Krafka Harkema says. "Replacing them with more energy-efficient ENERGY STAR-qualified windows helps save energy and add comfort to your home."
You may be able to claim a U.S. energy-efficiency tax credit from $200 to $500 on certain ENERGY STAR-qualified windows and doors installed in 2011. Check Pella.com/taxcredits for details.
Whether you're making room for your parents or welcoming home a college graduate, home remodeling is a sensible investment in today's economy. Be sure your home update features comfortable, practical, universal and energy-saving improvements.