"Operation: Storm Ready" Comes to Ford Park May 29
Rita, Humberto, Ike. Familiar names to all of us in Southeast Texas, names recognized for the damage and destruction these hurricanes brought with them. Are we ready for what may come in 2013?
Entergy Texas, Inc. says, "Yes!" and is ready to show you why at Operation: Storm Ready, a pre-hurricane season event set to take place from 9 a.m. until noon, Wednesday, May 29, at the Ford Park Exhibition Hall in Beaumont.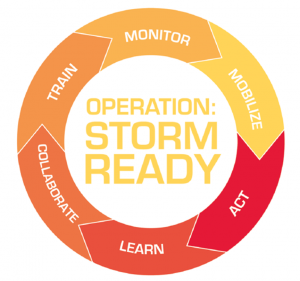 Entergy Texas has partnered with a variety of local governmental, emergency and social service agencies to provide interesting displays and activities related to storm response. Those attending will have the rare opportunity to see the kinds of equipment used during storm restoration. But there are 13 other wide-ranging exhibits as well. Those include the National Weather Service, the Coast Guard and a number of other agencies.
The Port Arthur Mobile Command Center will be on display while the Jefferson County sheriff's department will get to show off its department helicopter and boat. The Beaumont Chapter, American Red Cross, will have its emergency response vehicle on hand and, just in case you haven"t had the opportunity to do a good deed lately, LifeShare Blood Centers will have their bus available for potential donors.
"Bringing Southeast Texas back to normal after a storm is never a one-man show for any organization," explained Todd Dunkleberger, regional customer service manager for Entergy Texas and master of ceremonies for Operation: Storm Ready. "We are very pleased to be able to bring in so many of our partners. This will give all of us the chance to talk to our friends and neighbors in Southeast Texas about what it means to prepare and be ready for a storm."
The day's agenda includes the following:
9-9:30 a.m.
Indoor and outdoor displays, booths and activities open to attendees.
9:30-10:20 a.m.
Presentations
Chris Hebert, TropicsWatch manager for ImpactWeather, Inc.

Vernon Pierce, Entergy Texas customer service director

Shawn Corkran, Entergy Texas transmission and distribution director
10:20-11 a.m.
Panel Discussion
Carmen Apple, district coordinator, Texas Division of Emergency, Management.

Sue Landry, director, SETRPC Homeland Security and Emergency Planning Division

Lt. Tim Ocnascheck, emergency manager, City of Beaumont

Vernon Pierce and Shawn Corkran
11 a.m.-Noon
Indoor and outdoor displays, booths and activities open to attendees.
Entergy Texas, Inc. provides electricity to 420,000 customers in 27 counties. It is a subsidiary of Entergy Corporation. Entergy, which celebrates its 100th year this year, is an integrated energy company engaged primarily in electric power production and retail distribution operations. Entergy owns and operates power plants with approximately 30,000 megawatts of electric generating capacity, including more than 10,000 megawatts of nuclear power, making it one of the nation's leading nuclear generators. Entergy delivers electricity to 2.8 million utility customers in Arkansas, Louisiana, Mississippi and Texas.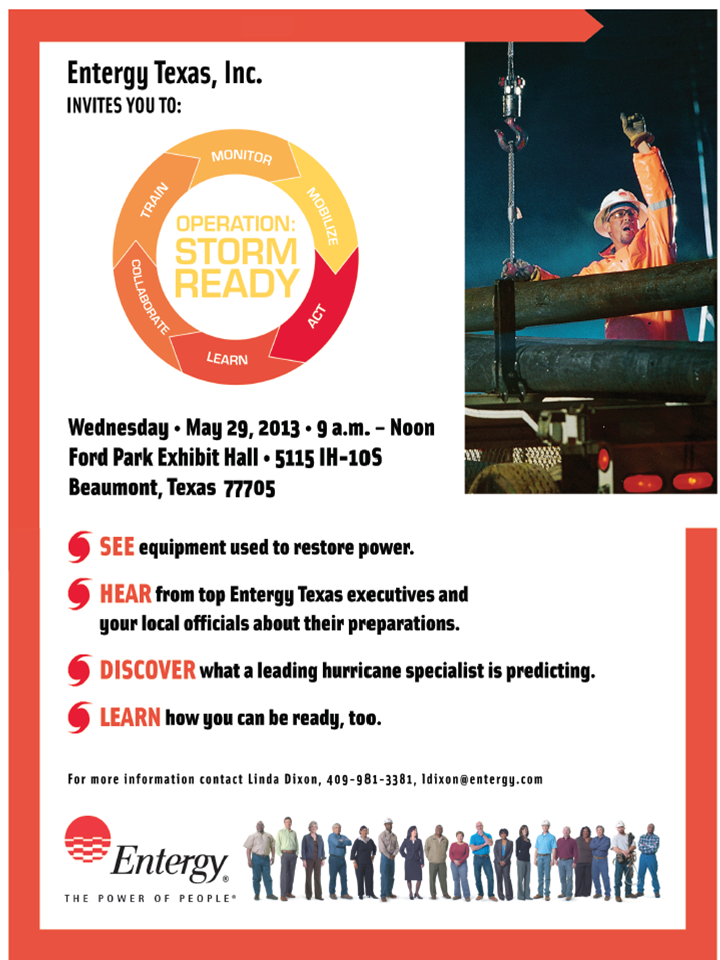 Ford Park
5115 IH-10 South, Beaumont, TX ‎

View Larger Map