Southeast Texas Senior News: Older Drivers and New Cars
Southeast Texas Senior News: Tips on Buying New Cars
Our Southeast Texas seniors have spent a lifetime carefully saving for important life moments:
Kids and often grandkids college tuition
A safe, comfortable home
A pleasant Southeast Texas retirement: trips to visit grandkids, crossing items off of our bucket lists, maybe a boat to enjoy Sam Rayburn or Sabine Pass.
As we age, it's more important than ever to make smart spending and lifestyle decisions.
This doesn't mean we have to drive a vehicle that was new when you opened your first 401(k) account, though. In fact, Southeast Texas senior citizens age 50 and older now account for 62 percent of buyers of new vehicles according to a study from AARP and J.D. Power.
If you plan on driving in style after retirement in Southeast Texas, here are some smart spending and lifestyle tips to help put you behind the wheel of the right ride.
Buying a New Car in Southeast Texas Can be All About the Timing
You may already know that the end of the month – any month – is a better time to go car shopping than the beginning or even middle.
That's because sales people are eager to sell as many vehicles as possible before the month ends in order to qualify for bonuses from manufacturers.
Timing your purchase for the end of a month, can help ensure you find the best deals available.
Safety pays for Southeast Texas Senior Drivers
You've been working hard to make good investments your entire life, and it shouldn't come as a surprise that following safe driving practices is one investment that will pay off in the long run with insurance discounts for Southeast Texas senior c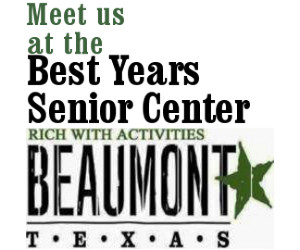 itizens.
In addition to helping to keep you and your car safe, safe driving insurance discounts can add up quickly for our SETX senior readers.
Additionally, taking a driver safety course may help lower your insurance rates. AARP Driver Safety offers a course specifically designed to help drivers 50 and older refresh their driving skills. Taking a course can also help you manage health-related changes that are a natural part of the aging process. To find an AARP Driver Safety classroom course near you, visit www.aarp.org/drive, call 888-227-7669, or enroll in an online course – available in both English and Spanish. Participants may be eligible for a multi-year insurance discount upon completion of the course. Other restrictions may apply so they should consult their insurance agent for details.
Safe driving courses are often held at The Best Year's Center in Beaumont.
Let's talk about tech and Southeast Texas vehicle safety
Auto makers have been using technology to improve vehicle performance, usability and crash safety for decades. The current hot trend in auto-making expands the use of technology to help Southeast Texas senior drivers maneuver more safely.
You can now find a range of new car models – and not just luxury brands – that offer a variety of safety features. From an alarm that warns you when it's unsafe to pass a slower vehicle in front of you, to a warning light that alerts you to vehicles in your blind spots, technology can help drivers be more aware of their surroundings. Some vehicles are even equipped with sensors that warn you when a crash may be imminent, and help you avoid the accident altogether.
The high-tech accessories and systems can be especially useful for drivers 50 and older who may face natural heath-related changes in vision, hearing and reaction time.
With smart spending plans, older drivers are able to invest in a new vehicle that fits their lifestyle and their budget.
For Southeast Texas seniors looking to save money on buying and insuring a new vehicle, there are a few good practices out there.

To review – buying a car from your preferred Southeast Texas dealership (Nissan of Silsbee has built a great reputation with Southeast Texas senior car buyers) towards the end of the month, asking your insurance company (or another insurance company) about safe driving discounts for SETX senior drivers, and looking for vehicles with the latest safety features can help give you the best overall driving experience- and often save our Southeast Texas seniors some significant money.
We hope you've benefitted from today's edition of Southeast Texas Senior News.