They Do It With Mirrors
Agatha Christie has a legion of loyal fans. If you are one of the millions for whom Agatha Christie and Miss Marple rarely disappoint, consider They Do it with Mirrors (available in large print).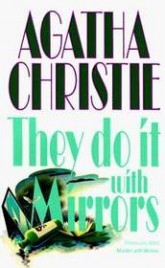 One of Miss Marple's school friends believes that her sister, Carrie Louise, is being poisoned. She asks her old friend Miss Marple to investigate before it is too late. Carrie Louise and her third husband are currently running a boarding school for juvenile delinquents. The money to keep the operation afloat comes from her first husband with whom she had two children- one biological and one adopted daughter. Try this out: Carrie Louise, her biological daughter, her third husband, her now-deceased adopted daughter's daughter and her husband, and one of Carrie Louise's stepsons from her second marriage are all living in the same house. Whew! It must be larger than a three bedroom. Despite their close living quarters, this is not the tale of a happy family. No indeed. The stepson is trying to lure the granddaughter away from her sullen American husband, Wally. Mildred (Carrie Louise's biological daughter) has always felt second best, first to her adopted sister and now to her dead adopted sister's child. Of course, there are all those at-risk youths running around and now Carrie Louise's stepson by her first marriage has shown up with dark fears of his own.  Suspiciously, he won't share with anyone but the third husband (Lewis) what those concerns are. Then one night, one of the delinquents takes a shot at Lewis but, while he survives, the unfortunate stepson from the first marriage is dead. Who killed the stepson? What was the motive? Could someone really be poisoning Carrie Louise? It's  truly a tangled Agatha Christie web that only Miss Marple can solve.
They do it with Mirrors is currently available in large print from Southeast Texas libraries or may be ordered from Barnes and Noble or Amazon.com. SETXseniors.com would love to know what you're reading. If you'd like to recommend a book- or to tell your fellow Southeast Texas Seniors which books to avoid- write a short review and email it to Jessica.setxdigital@gmail.com.