Beaumont Senior Outing: The Art Studio – Neches River Critters
Looking for a fun and fanciful Beaumont senior outing?
Consider The Art Studio Beaumont's exhibit: "Acquae Obscurae: A Menagerie of Neches River Critters".
The show's idea was hatched when a Neches River Tugboat Captain Beau Dumesnil speculated about what kind of creatures might exist at extreme depths in the river.
He and his wife Karen collaborated on putting this exhibit together inviting other Southeast Texas visual and performing artists to participate.
Here's the creative backstory:
In 1894, Sir Randolph Foxton-Twickenbush, the great British adventurer, steered the steamship "Good Queen Bess" into the mouth of the mighty Neches River in search of the broad-mouthed squintabass, a creature so huge and so fearsome that no one who had encountered it had survived to tell the tale. Existing only in half-whispered stories passed down through generations, the mighty fish lived hundreds of fathoms deep in the darkest parts of the river. Foxton-Twickenthorn, accompanied by 20 men and his trusty guide, Claude Boudreaux of St. Martinsville, and financed by the Royal Society of Aquarian Fauna, peered deep into swamp and marshy undergrowth for the animal that would cement his reputation as the greatest explorer in the world — and the financial remunerations that accompanied the title…."
What will you see in this exhibit? A little science, a little imagination, and a lot of creative Southeast Texas art.
Want to get in the act? Some fun loving Southeast Texas artists will come dressed up as sea creatures that exist only in their own minds.

Acquae Obscurae: A Menagerie of Neches River Critters will run:
March 08, 2014 – March 29, 2014
Tuesdays – Saturdays, 2:00 pm – 5:00 pm.
The Art Studio

 

720 Franklin. Beaumont, TX 77701
409-838-5393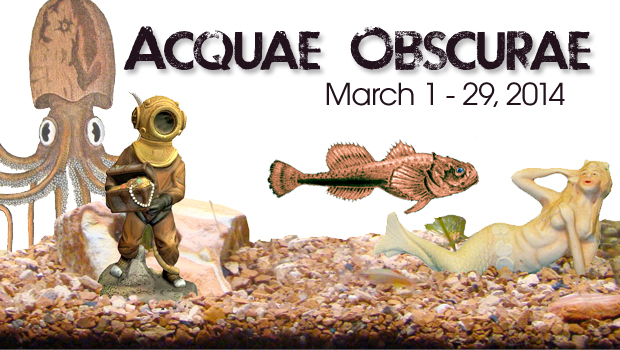 If you're looking for a unique Beaumont senior outing or are just a lover of fanciful art, this show at The Art Studio should be a great fit.
Enjoy Beaumont seniors!