SETX Senior Activities – Learn Crochet
Are you looking for a new Beaumont senior activity to share with friends?
Many Southeast Texas seniors really enjoy crochet.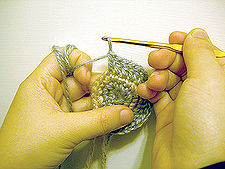 Crochet is an art typically passed down from generation to generation.
Crochet is a process of creating fabric from yarn, thread, or other material strands using a crochet hook. The word is derived from the French word "crochet", meaning hook. Crocheting, like knitting, consists of pulling loops through other loops, but additionally incorporates wrapping the working material around the hook one or more times. Crochet further differs from knitting in that only one stitch is active at one time (exceptions being Tunisian crochet and Broomstick lace), stitches made with the same diameter of yarn are comparably taller, and a single crochet hook is used instead of two knitting needles.
A lot of SETX seniors could have learned crochet from their parents but didn't for a variety of reasons- other interests, rough spot in the parent/child relationship, or it always seemed like there would be time "later".
Now, lots of seniors are interested in learning crochet again.
It's a wonderfully social activity that can be enjoyed while talking and socializing with others.
Crochet is also a great stress reliever, giving mind and body an activity to enjoy and to focus on.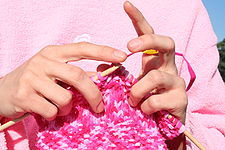 If learning crochet has been on your mind, but you don't know where to learn, consider taking the class at the Best Year's Center. Classes meet Mondays and Wednesdays from 9-11:30. You'll be crocheting in no time in a laid back environment with nice people.
Teacher: Marie Garrett
Best Year's Center
Address: 780 4th St. in Beaumont
Phone: (409) 838-1902

Find more great Beaumont senior activities right here on SETXSeniors.com, your headquarters for Southeast Texas senior news, online 365 days a year.
Don't miss the latest issue of the SETX Senior Resource Guide, available for free at over 300 locations across the Golden Triangle.
SETX Seniors – no one provides more Southeast Texas senior news.