Entergy Gears Up For Hurricane Season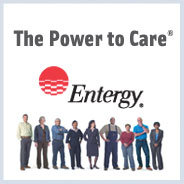 Living on the Gulf Coast comes with the bittersweet excitement of the Summer season every year. Bittersweet because it also welcomes the hurricane season.
June 1, marks the beginning of hurricane season and forecasters are projecting 50 percent more activity for the 2013 season than during a normal season. The latest numbers have them projecting 18 named tropical storms (winds sustained at 39 mph) of which 9 will become hurricanes. With those projections in mind Entergy wants to help remind you of a few tips that could help keep you and your family safe this hurricane season.
Before the Hurricane hits make sure you have at least a 3 day supply (one gallon per person per day) of water. You'll also need a 3 day supply of non perishable, easy to prepare food.. things that will not require electricity to prepare. You will also need the following: a flashlight, supply of batteries, first aid kit, a 7 day supply of all medications, any medical items such as hearing aids (with extra batteries), glasses, contact lenses, syringes, & canes. And don't forget your toiletries and personal hygiene items as well. Copies of all your important documents such as insurance papers, proof of residency, passports,and birth certificates. Make sure you have your cell phones and chargers, family and emergency contact information, extra cash, an emergency blanket, maps.. GPS can fail if service is not available but a good old fashioned map is always there, baby supplies if you need them, of course pet supplies, keep a list of hotels for the area you're going to evacuate to and bring them with you. Call them early and book, you won't be the only one doing so they will book fast!
You'll also need to get your house ready. Entergy of Southeast Texas recommends you look around your home for any downed lines prior to the storm hitting. Also trim trees that are not near power lines and clear away the debris. Fill up all of your vehicles with gas. If you have a swimming pool make sure the pump and filters are off, and wrap them in waterproof materials to ensure they aren't ruined by the storm. Remember also that most insurance policies do not cover flooding. You will need to contact you insurance agent at least a month in advance to add flood insurance to your policy. Otherwise you may come back after a hurricane only to find out little or none of your damage will be covered by your insurance. It seems a little overwhelming so take it a little at a time starting now and by the time hurricane season hits you'll be all set and ready to go… should you need to. Entergy also wants you to remember our elderly residents not only during hurricane season but throughout the year. Many of our senior citizens have a difficult time making ends meet. None of them should have to choose between being able to eat that week or having electricity but that's the harsh reality for many. Through Entergy's Power to Care program you can donate as little as $25 a month to help seniors keep from having to make that choice every month. For you that's a week of latte's for seniors it could mean life or death.
Click Here to Help out by committing to give to Entergy's Power to Care today.
ENTERGY Texas Contact Info
Q. What number do I call for account information and general customer service questions?
A. 1-800-ENTERGY or 1-800-368-3749
Q. What number do I call to report an outage?
A. 1-800-9OUTAGE or 1-800-968-8243
Link to ENTERGY Texas Outage Tracker: www.viewoutage.entergy.com/tx.aspx
Visit ENTERGY  Texas Online at