Food & Fundraiser: "Art of Beer"
Fundraising in a down economy is a challenge. Southeast Texans have been hit like everyone else, so it can be harder to "just write a check" these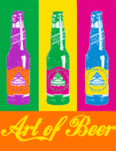 days.
Southeast Texas seniors are also spending less on entertainment.
Smart charities know "fundraising" is easier if you include lots of "fun".
The Art Museum of Southeast Texas demonstrates this principal very well with their  "Art of Beer". This foam-filled and adventurous event gives Southeast Texans the opportunity to sample several quality beers and to learn more about beer- the history, how it's made, and what makes the different varieties unique.
There is also lots of great gourmet food specially chosen to pair with the beer- there is even live entertainment.
Have a great time- but if you drink, use a designated driver or call Yellow Cab.
Date: October 04, 2012
Time: 6:00 pm – 10:00 pm
Location: Art Museum of Southeast Texas  500 Main St. Beaumont, TX 77701
Phone: 409-832-3432
Web: Visit Website