Introduction to Medicare Advantage Plans for Southeast Texas Seniors
Medicare Advantage Plans Southeast Texas
Southeast Texas: We are in Open Enrollment for Medicare & Medicare Advantage Plans.
Medicare Open Enrollment is October 15 – December 7
Today we'd like to provide an introduction to Medicare Advantage Plans for our Southeast Texas Seniors.
Many of our readers write with questions about Medicare Advantage Plans – usually starting with "What is a Medicare Advantage Plan?".
Today, we're happy to provide some introductory information to help give you a better understanding of what Medicare Advantage Plans are and how they can assist you.
Southeast Texas seniors have the option to choose to stay with Medicare or to choose a private, customized "Medicare Advantage Plan".

Essentially, Medicare Advantage Plans in Southeast Texas allow you to receive your Medicare benefits through a private company like Texan Plus – with plans that are custom designed to fit your current needs and lifestyle.
Private Medicare Advantage Plans can provide all of your Southeast Texas Medicare Part A and Part B benefits.
Most Medicare Advantage Plans available in Southeast Texas offer sophisticated prescription drug coverage. If you have special needs, call to review the plan – they will help you find the "just right" plan for your needs.
One company that specializes in providing Medicare Advantage Plans to Southeast Texas seniors is Texan Plus.
Their HMO plans have been very popular with SETX seniors looking for plans that meet their individual needs.

Texan Plus's Medicare Advantage Plans have been Four Star Rated by Medicare.
Texan Plus covers most of our Southeast Texas seniors:
Jefferson County
Hardin County
Orange County
Chambers County
Liberty County
Several additional counties are covered by TexanPlus.

Best of all, Texan Plus has experts right here in Southeast Texas to answer your Medicare Advantage Plan questions and to provide any information you need.
Call TexanPlus any time: (409) 981-7300.
By asking a few questions and exploring all of the options available to you, you can find out if TexanPlus has a Medicare Advantage Plan that is just right for you.
Would you like to know more about Southeast Texas Medicare Advantage Plans?
Log onto SETXSeniors.com or "Like" SETX Seniors on Facebook to receive regular updates on SETX senior health, news, and entertainment.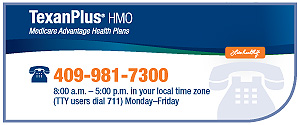 We hope you've benefitted from today's introduction to Medicare Advantage Plans for our Southeast Texas Seniors.
If you're looking for more information about Medicare Advantage Plans for Southeast Texas, stay tuned to SETXSeniors.com.