Lumberton Nursing Home Ministry by First Baptist Church – Wednesdays at 10
Senior Ministry Hardin County TX – First Baptist Church Lumberton Nursing Home Memory
Each Wednesday at 10, First Baptist Church Lumberton provides a nursing home service.
As you probably know, our SETX nursing homes are full of life long church members, many who can no longer leave their Southeast Texas senior living facilities for regularly scheduled church services.
This senior outreach program from First Baptist Church Lumberton is a real blessing for Hardin County seniors.
Would you like more information on this Lumberton senior ministry?
Call First Baptist Church Lumberton or ask your Lumberton nursing home activities director for more information:
First Baptist Lumberton
119 Church Loop
Lumberton, TX 77657
Office Phone First Baptist Lumberton: 409-755-4213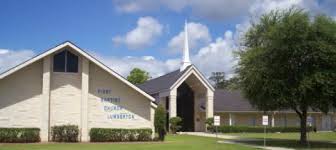 We hope you have enjoyed today's feature, Senior Ministry Hardin County TX – First Baptist Church Lumberton Nursing Home Memory.