Sandwich generation turns to technology to help take care of aging parents
(BPT) – It's human nature to want to take care of those we love. In fact, nearly 66 million Americans are caregivers, who spend about 19 hours a week caring for a loved one, according to AARP. Many of those caregivers are looking after older parents who don't live with them. And while helping aging parents with everything from financial management to health care decisions is difficult enough, the challenges grow if the parent lives alone, either close by or in another state.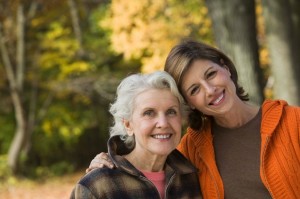 Many members of the "sandwich generation" – adults age 45 to 55 who are taking care of their own children and their aging parents – are turning to technology to make their caregiving role easier.
"This is an age group that's comfortable with technology, and they're used to employing it in their professional lives to solve problems," says Geoffrey Nudd, CEO of ClearCare Online, a web-based service that facilitates communication between consumers and professional caregivers. "They're finding that it makes sense to bring in technology-based solutions when they're facing particular challenges in caring for their aging loved ones."
Here are three tech tools that Americans are finding helpful when taking care of elderly parents:
1. Home security systems – These systems, once relied on solely to keep bad guys out of a home, are serving an expanded function for caregivers. Provided through companies such as ADT, these monitoring systems can provide caregivers with a variety of information, including:
* Users can receive a text message to their mobile device that lets them know when the front door opens. This can be useful for people taking care of parents with dementia, potentially alerting them if the parent might be wandering outside the house.
* Sensors placed on a medicine cabinet can let users know if the cabinet has been opened – or not. An unopened cabinet may mean a parent has forgotten to take needed medications.
* Cameras in key areas of a home can live-stream an image of what's going on inside the room to any mobile device. Caregivers can see if a parent has fallen or is having a scheduled meal.
2. Homecare communication systems – This new technology aims at facilitating caregivers' efforts to help aging parents remain independent for as long as possible. Many adult children turn to professional home care agencies to assist aging parents with non-medical aspects of their care. ClearCare is an online software system that helps consumers stay connected with the professionals that aid their parents.
Consumers as well as professional caregivers can use a mobile device (such as a smart phone or tablet) to access care schedules and view reports on the status of their parent's in-home care, and more. Visit www.clearcareonline.com to learn more.
3. Personal response and GPS – Tracking devices such as Philips LifeLine and those that use global positioning technology can help caregivers keep track of an elderly parent wearing such a device. To preserve the wearer's dignity, these devices come in wristband, clip on and pendant designs, and provide caregivers with information on the wearer's location.
Even elderly parents who are independent enough to continue driving can benefit from GPS technology. Driving can be especially daunting for older people who often deal with age-related deficiencies in reaction time and eyesight. GPS technology can help them safely navigate to a new destination, avoid traffic congestion and even find alternate directions when facing a detour on a familiar route.
"Caring for those who need our help is a basic human instinct," says Lucy Andrews, RN, MS and Vice Chairman of the National Association for Home Care, who uses ClearCare Online with families that she works with, "Technology can support and make it easier for people to care for those they love, both at home and when they are far away from their loved ones."