SETX Legend: Babe Zaharias
Less than one percent of professional athletes maintain name recognition a decade after they stop playing.
Their great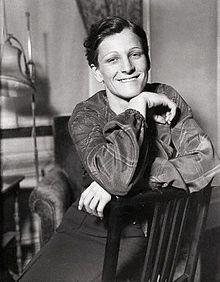 deeds fade out of the memories of all but their family and a handful of their biggest fans. Even fewer are ever acknowledged, even fleetingly, as the greatest to ever play their sport.
Ask in any bar, barbershop, or sports radio show for the greatest player in any single sport and you will set off hours or days of debate and possibly a fist fight. Michael Jordan is frequently acknowledged as the greatest basketball champion. You still get people who hold out for Wilt Chamberlin or Bill Bradley and someday you might get those who will debate that LeBron James is a legitimate challenger.
That sport is probably the closest to achieving any kind of agreement. Baseball? Impossible. Hank Aaron? Babe Ruth? Christy Mathewson? I hesitate to even get you started.
Football? You get the idea.The subjective nature of judging and ranking athletes makes it all the more impressive that one athlete is recognized worldwide as the "World's Greatest Female Athlete".
The Golden Triangle's own Babe Zaharias. Born Mildred Ella Didriksen (later changed to Didrikson) in Port Arthur, Babe conquered every sport she attempted. From her local debut at Beaumont High School the international stage of the 1932 Olympics, Babe was a true winner.
In her early years, Babe was dominant in track and field, basketball (all American), tennis, basketball, diving, roller skating, and bowling.In the Olympics, Babe focused on track and field and won gold medals for both javelin and the 80 meter hurdles. She tied Jean Shiley in the high jump as well, but judges arbitrarily awarded her the silver medal due to a minor and questionable stylistic issue.
Today, in addition to the Olympics, Babe is probably most commonly known as a golfer. She did more than anyone to popularize women's golf and was an LPGA pioneer. For four consecutive years, she was the top money winner on the LPGA tour- 1948, 1949, 1950, and 1951. She was also the first to break golf's gender barrier, qualifying for the Los Angeles Open (a men's tournament) way back in 1938. For her, golf must have been a gift from God.
How many athletes have been unable to support themselves financially with their talents?
Babe was the right woman at the right time and not only made a living, she became a legend.Babe Zaharias was named by the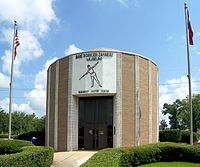 AP as the "World's Greatest Athlete of the First Half of the 20th Century", and Sports Illustrated declared Babe the "Female Athlete of the 20th Century- Individual Sports."You can find out more and see lots of great memorabilia and photos at the Babe Didrikson Zaharias Museum in Beaumont.1730 IH-10 East inBeaumont(409) 833-4622www.babedidriksonzaharias.org
Do you have a special memory of Babe Zaharias? Share it with us by e-mailing setxseniors@gmail.com .
We'd love to hear your stories about Babe – and about other SETX legends.