Southeast Texas Seniors with Hearing Loss Report Poor Perception of Health by Trinity Hearing and Balance Port Arthur
Today's spotlight on Southeast Texas hearing loss looks at the effect hearing loss has on other areas of a Golden Triangle Senior's health. Today's message is sponsored by Trinity Hearing and Balance Center in Port Arthur.
Hearing Loss is a chronic condition that affects nearly 2 of every 3 Southeast Texas seniors aged 70 years or older.
Hearing loss has broader implications for older Southeast Texas seniors, being independently associated with poorer cognitive and physical functioning.
Experts recently  investigated the association of hearing loss with hospitalization and burden of disease in a nationally representative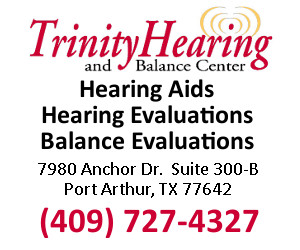 study of adults 70 years of age or older.
The authors found that compared with individuals with normal hearing, individuals with hearing loss were more likely to have a positive history for cardiovascular risk factors, have a history of hospitalization in the past year, and have more hospitalizations.
Hearing Loss was significantly associated with hospitalization, number of hospitalizations, more than 10 days of self-reported poor physical health, and more than 10 days of self-reported poor mental health, the researchers found.
The bottom line is that Golden Triangle seniors with untreated hearing loss feel like they are less healthy than their counterparts.
Southeast Texas seniors with hearing loss are more likely to:
Feel other areas of their health are worse than they really are.
Check themselves into a hospital.
Have more hospitilization days than those whose hearing loss has been treated.
Fortunately, this may be remedied relatively easily.
Southeast Texas seniors with hearing loss can get help from the Southeast Texas hearing aid experts at Mid County's Trinity Hearing and Balance.
They understand that hearing and balance issues affect Golden Triangle senior health in many ways.
The technology to treat Southeast Texas hearing loss has grown leaps and bounds over the past few years. A visit to Trinity Hearing and Balance Port Arthur may do more than return your hearing to normal – it just might return your life to normal.
What more could we want?
If you think you are a Southeast Texas senior with hearing loss, contact the Port Arthur hearing aid experts, Trinity Hearing and Balance.