Wildcatter Weekend – Walk in the Footsteps of History 112th Anniversary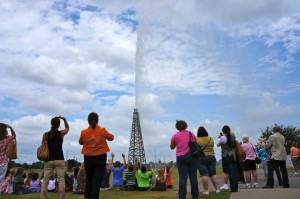 Spindletop Anniversary Celebration and Reunion
Saturday, January 12, 10 a.m. – 2 p.m.
Enjoy a fun FREE family event- at the Spindletop Museum.
It is their 112th anniversary, and the celebration will be huge.
Take your grandkids by Gladys City to get a little Southeast Texas history wrapped up in with wholesome fun.
There will be events for all ages- lectures, exhibits, and a top notch historical reenactment.
The Spindletop Museum puts together a nice, family friendly, budget friendly (read: FREE) Saturday afternoon. Everything is designed to be fun, educational, and highly entertaining.
At 10:30 a.m., the historical moment in time the legendary Spindle Top gusher blew, Gladys City will present a full reenactment complete with live period actors and music.
After the production, there will be family activities such as building an oil derrick, mapping, and tours of Spindletop's fully running blacksmith shop.
There will also be demonstrations at the historic print shop.
For history buffs, local historians will share their knowledge of the Spindletop Gusher and the effect it has had, and continues to have, on Beaumont, the Golden Triangle, and the entire Gulf Coast region.
Spindletop 112th Anniversary – Schedule of Events
10 am – Museum opens
10 am – 2 pm- Family Activities
Blacksmith Demonstrations
Printing Demonstrations
10:30 am- Lucas Gusher Re-Enactment
"Gusher Field"
11 am & Noon- Special Guest Speaker Jo Ann Stiles
Caroline Room, Visitors Center
11 am – 2 pm – Complimentary Refreshments
Log Cabin Saloon
1 pm – Special Guest Speaker Christine Moor Sanders
Caroline Room, Visitors Center
2 pm –Celebration ends – museum open until 5 pm
Visit Gladys City – Spindletop website
Gladys City is located on the Lamar University campus
(University Drive & Hwy. 69N)
Click Here for Directions