Forest Lawn Memorial Park and Funeral Home

Forest Lawn Funeral Home Beaumont has been a part of thecommunity since 1926.
Forest Lawn's Beaumont funeral home is equipped with a beautiful chapel and spacious state rooms for the convenience of client families.
Situated on 160 acres, their meticulously maintained cemetery grounds offer gently rolling hills, which are adorned with flowering shrubs, along with pine, oak and crepe myrtle trees, providing a picturesque setting in which to honor the memory of your loved one.
To better serve area families, Forest Lawn Funeral Home Beaumont shares a close affiliation with Grammier-Oberle Funeral Home and Greenlawn Memorial Park.
Forest Lawn is a specialist in helping Southeast Texas Seniors plan for end of life arrangements. Making these plans gives peace of mind, not only for you, but also for all of those who will be left behind to celebrate your life and the key role you played in theirs.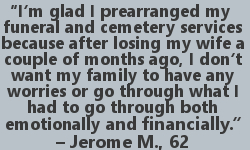 Forest Lawn Beaumont Funeral Home understands that none of us want to think about our death any sooner than we must, but planning your funeral services in advance, called "preplanning" or "prearranging," is a responsible, caring act that can reduce stress for your grieving loved ones. It's easy to understand how making decisions now about your final arrangements can help assure those left behind that your wishes are being honored.

Take responsibility for your arrangements.
Just as estate planning and creating a will are responsible actions, for Southeast Texassenior preplanning Southeast Texas funeral arrangements makes emotional and financial sense. Bottom line- pre-arranging your SETX funeral protects loved ones from the burden of planning services for you.
Just like having a will, planning your final arrangements takes the responsibility and stress off of your loved ones. 
Eliminate guesswork for your family.
When you prearrange Southeast Texas funeral services, you'll help alleviate your family's burden of making difficult decisions at what will be an already difficult time. With your wishes recorded, they won't be left to guess what you would have wanted. Do you want to be cremated? Do you want to purchase additional plots so family members can be buried near you? Do you want anyone special to speak at your memorial? Make a note of it, so the day will honor your life – and celebrate your legacy.

Personalize your service.
Making your Southeast Texas funeral arrangements in advance allows you to influence all elements of your services, including songs, readings or other personal details that are important to you. If you want a special song sung, a special poem read, or to designate someone to write your eulogy, this allows you to ensure your wishes are documented and carried out. It's your funeral – it should celebrate your life, your way.

Avoid emotional overspending.
By communicating exactly which merchandise and services you want, you can keep your family from purchasing unnecessary additions to your services.
Find the value and quality you want.
Talk to a Forest Lawn funeral consultant about what you want – price, style, and feel of service.

Lock in today's prices.
If you choose to fund your prearranged funeral plans, you can lock in today's prices for products and services that likely will be more expensive in the future. It is important to work with a funeral professional to understand your options.
Whether you simply want to ensure that your wishes are carried out, or you want to protect your family from making difficult decisions at a time of loss, planning your final arrangements in advance is an important responsibility, and one of the greatest gifts you can give your loved ones.

Forest Lawn Memorial Park and Funeral Home
Address: 4955 Pine St, Beaumont, TX 77703 (Click for Map & Directions)
Phone:(409) 892-5912
Click to Visit the Website of Forest Lawn Memorial Park and Funeral Home in Beaumont