Advertise
Interested in reaching Southeast Texas Seniors?
We offer you both an online (SETXSeniors.com)  and a print publication ( SETX Seniors Guide) for maximizing your ability for your or your business or service to become well known  to Southeast Texas Seniors and their caregivers.
For Website info, see below, to find out more about our printed publication, SETX Seniors Guide Click Here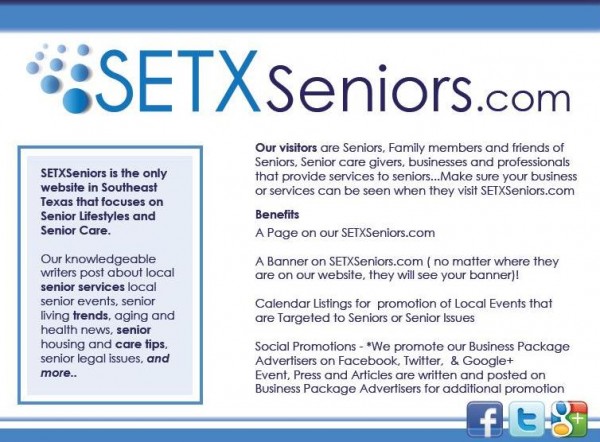 SETXSeniors.com is an effective, targeted way to reach baby boomers and seniors in Southeast Texas.
SETX Seniors prefers to advertise products useful or needed by visitors or their caregivers on our pages.
We also offer creative services (design, photography, video, web design) , copy-writing, business reviews and opportunities to be a columnist on our site to provide advice on your professional area of expertise.
Our site has been online since 2009 and we have recently completed a total redesign for us to provide you with enhanced information and marketing opportunities. We are committed to bringing new information on a regular basis to our visitors that expect it daily.
For more information,  Contact us today
To schedule an appointment, please call: (512) 567-8068.
SETXseniors.com is an ideal marketing resource for:
– Southeast Texas senior citizen entertainment opportunities
– Southeast Texas senior citizen exercise opportunities
– Southeast Texas senior education opportunities
– Southeast Texas Senior Ministries (Also consider our SetxChurchGuide.com Website)
– Southeast Texas Medicare Advantage Plans
– Southeast Texas Hospitals
– Southeast Texas Doctors serving seniors
– Southeast Texas Cancer Centers
– Southeast Texas Alzheimer's Resources
– Southeast Texas Home Health
– Southeast Texas Hospice Care