Spindletop – Gladys City Boomtown Museum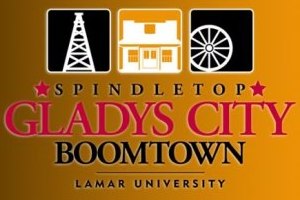 The Spindletop-Gladys City Boomtown Museum in Beaumont, Texas commemorates the discovery of oil at the Spindletop Hill salt dome in Beaumont on Jan. 10, 1901. The discovery sparked a major oil boom in Texas that continues today. The museum is a recreation of the town that grew up to support the oil workers. Buildings include a working bar, a post office, a working print shop, a dry goods store, and more. Special weekend events , "Wildcatter Weekends" are held each year with different themes. These sometimes include historical period reenactments by performers. A replica of the wooden oil derricks that once dotted the landscape of Spindletop Hill in the early 1900s has been erected near the museum.
For special occasions and anniversaries, the museum staff "blows the gusher" with a giant plume of water that really hammers home the feel of what it must have been like when the gusher at Spindletop first came in.
The Spindletop – Gladys City Boomtown Museum has been designed to appeal to all ages. There are accurate historical displays that will bring back a rush of memories to senior citizens who were involved in the oil business in the early days and a great "frontier town" feel that young children appreciate and enjoy.
Don't miss the gift shop for great books, information, and collectibles.
Spindletop – Gladys City Boomtown Museum
5550 University Drive, Beaumont, Texas 77705
Hours: Tuesday – Saturday: 10a – 5p. Sundays: 1p-5p
Phone: (409) 880-1750
Website:  www.GladysCity.org