FREE Fun with Grand Kids – December Wildcatter Weekend
Southeast Texas Parents need a little time during December to knock out Christmas shopping, wrap presents, and do all the little things they need to before giving your grandkids a perfect Christmas.
And your kids have been hogging your grandkids since school started haven't they?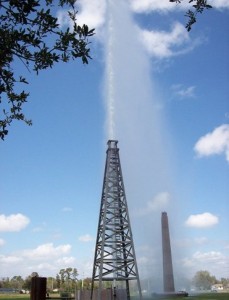 You deserve a little weekend time with them. The Wildcatter Weekend on December 8 is  a perfect chance for Southeast Texas grandparents  to spend a few quality hours with your grandchildren.
Not only will a lot of fun be had by all, but everyone just might learn something at the same time.
The only thing better than a grandparent/ kid outing is one that is FREE.
This Wildcatter Weekend is in honor of  Patillo Higgins.
Call him a dreamer, a visionary, a pioneer or "The Millionaire," the life and exploits of oilman Higgins are the stuff of legend. Besides his ability to locate oil throughout south Texas, Higgins, in the early days of exploration at Spindletop, oversaw the planning for an "industrial Utopia" called Gladys City, including the design of a city map. This event pays tribute to one of the more important — and colorful — historical Spindletop figures.
All Wildcatter weekends have a family activity. For the December event, families can learn about the craft of surveying and design their own "perfect city."
These historical events are a community service provided by Spindletop Gladys City Boomtown, a part of Lamar University, Beaumont. So take advantage of learning more about your hometown or your new town.
The events have been increasingly popular with Southeast Texas grandparents looking for a wholesome, free, educational, fun experience to share with their grandchildren.
Family activity sessions are at 1:00 pm and 2:30 pm. Reservations encouraged, but not required.
Time: 10:00 PM – 4:00 PM
Cost: Free admission all day, plus complimentary refreshments and gusher re-enactment at 4 p.m.
Location: Spindletop Gladys City Boomtown, Hwy 69 and Universtiy Drive, Beaumont, TXGladys City Office
Phone: 409-880-1750