Golden Triangle Senior Medical Info: How do Medicare Advantage Plans Work? by EPO – Eastex Physicians Organization
Eastex Physician Organization – EPO is dedicated to providing medical news and information to Southeast Texas seniors. One of the most common Golden Triangle senior medical questions is about Medicare and Medicare Advantage Plans.
If you're a Southeast Texas senior with Medicare questions, this information from EPO – Eastex Physician Organization is designed to help get you answers.
Understanding health care options continues to be a challenge for Southeast Texas seniors.
Today one of the big issues is whether or not to choose traditional Medicare or a private Medicare Advantage Plan.
One local physician group has worked hard to ensure Southeast Texas seniors understand their options. Eastex Physicians Organization (EPO) is a group of doctors and medical providers who are united in providing the highest quality of care and to ensuring Southeast Texas senior citizens understand their options regarding choosing a health care plan – and a health care provider.
As part of their campaign to provide information and support to Southeast Texas senior citizens, EPO has requested that we provide some information on how Medicare Advantage Plans work.
This information was provided by the US Government on their site, Medicare.gov.
Medicare Advantage Plans, sometimes called "Part C" or "MA Plans," are offered by private companies approved by Medicare. If you join a Medicare Advantage Plan, you still have Medicare– you will just choose a custom plan through your Medicare Advantage Plan provider.
You'll get your Medicare Part A (Hospital Insurance) and Medicare Part B (Medical Insurance) coverage from the Medicare Advantage Plan and not through Original Medicare.
Medicare Advantage Plans cover all Medicare services.
Do you have more questions about Medicare or Medicare Advantage plans? Contact EPO – Eastex Physician Organization today.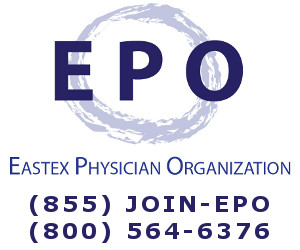 Medicare health plans provide Part A and Part B benefits to people with Medicare who enroll in these plans, which include Medicare Advantage Plans, Medicare Cost Plans, Demonstration/Pilot Programs, and Programs of All-inclusive Care for the Elderly (PACE).
Medicare Advantage Plans must follow Medicare's rules.
Medicare pays a fixed amount for your care each month to the companies offering Medicare Advantage Plans. These companies must follow rules set by Medicare.
However, each Medicare Advantage Plan can charge different out-of-pocket costs and have different rules for how you get services (like whether you need a referral to see a specialist or if you have to go to only doctors, facilities, or suppliers that belong to the plan for non-emergency or non-urgent care). These rules can change each year.
Drug coverage in Medicare Advantage Plans
You usually get prescription drug coverage (Part D) through your Medcare Advantage plan. In some types of plans that don't offer drug coverage, you can join a Medicare Prescription Drug Plan.
You can't have prescription drug coverage through both a Medicare Advantage Plan and a Medicare Prescription Drug Plan. If you're in a Medicare Advantage Plan that includes drug coverage and you join a Medicare Prescription Drug Plan, you'll be disenrolled from your Medicare Advantage Plan and returned to Original Medicare.
Hopefully this has been a useful introduction to how Medicare Advantage Plans work.
You can find additional information on Medicare.gov.
Eastex Physicians Organization works hard to help seniors with all facets of their medical care. If you have additional questions about how Medicare Advantage Plans work, call EPO and they can point you to someone who can help you find the answers you seek: (800) 564-6376.