Southeast Texas Black History and Fashion – Malcolm X, Who Might He Have Become?
Black History Month Southeast Texas
The Evolution of Malcolm X
On today's edition of Southeast Texas Black History and Fashion we look at Malcolm X.
Malcolm is widely seen as a polarizing figure from the civil rights movement. For many there is another side of him – a man whose beliefs were constantly in transition, evolving with the world around him.
For those who studied his life in detail, they found a man who represented, at one time, all facets of what it was to be a black man during the American Civil Rights Movement. Malcolm was a smart student discouraged from higher education. Malcolm was a hustler. Malcolm was a criminal. Malcolm was a Muslim.  Malcolm was a faithful husband and devoted father. Malcolm was a Black Nationalist. Malcolm was a leader who died before we were able to discover what he might have become.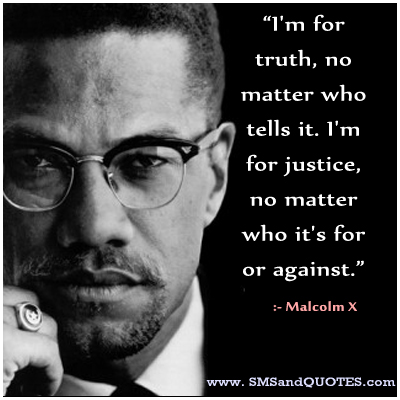 He was born Malcolm Little in 1925. His father Earl Little was a preacher and member of the Universal Negro Improvement Association and a supporter of black nationalist leader Marcus Garvey.
Earl Little and his family were regularly harassed by The Ku Klux Klan and other White supremacist organizations like the Black Legion. The family was threatened and intimidated by masked riders. Their home was burned down while white firemen and policemen watched without attempting to put the fire out.
Finally, Earl Little was murdered, almost certainly by the White supremacists who had threatened him often and publicly.
In a final act of abuse against Malcolm X's family, police ruled his father's murder a suicide. This prevented the family from collecting on the insurance policy that Earl Little had purchased to financially protect his family. Earl knew that it was likely that he would be killed by White supremacists and had attempted to provide some financial protection for the family he would leave behind.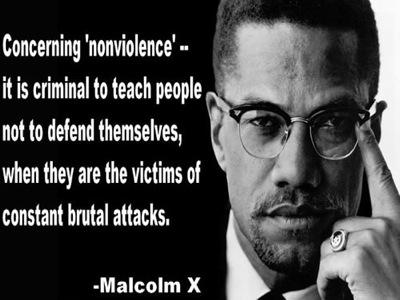 In her grief, Malcolm's mother was committed to a mental institution and Malcolm began his life of exploration and transition.
Malcolm X excelled in a school where he was the only Black student. He was elected class president and achieved excellent grades. In 1939 he was asked by his English teacher what he'd like as a career.
When he told her he would like to be a lawyer, she deeply affected him by declaring that goal unrealistic and encouraging him to try something more achievable for a black man, like carpentry.
What might his life have become if his teacher had said, "It will be hard work but I believe in you – I believe you can become a lawyer"?
Despite his previous academic success, a disillusioned Malcolm Little dropped out of school a year later.
Malcolm Little was 15 years old.
He moved to Boston and lived for a while with his sister who got him a job at the Roseland Ballroom shining shoes.
Malcol Little was fascinated with the street life and hustlers of the big city. He got a job as kitchen help on the railroad working on the Yankee Clipper between New York City and Boston. He is believed to have made more money than the railroad paid him by using the train to transport and sell marijuana.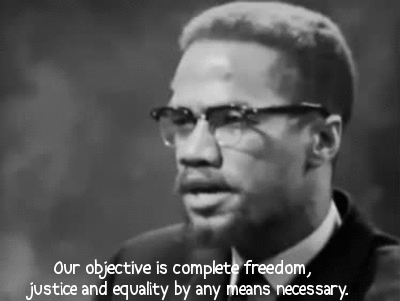 He processed his hair and wore elaborate zoot suits. He got to know women and the night life of Boston.
His expensive tastes led to a further dependence of income from crime and in 1946 Malcolm Little was arrested and sentenced to ten years in jail for larceny.
In prison, Malcolm returned to focusing on his self-education. He read constantly. He was visited by family members who had joined the Nation of Islam a small Black Muslim sect founded by Elijah Muhammad that embraced Black nationalism ideas not unlike those his father and Marcus Garvey had championed. Their belief was that to secure freedom Black Americans would need to have their own separate state. For Black and White to thrive, they would each need their own independent space.  Malcolm converted to the Nation of Islam while in prison.
In 1952 he dropped the surname "Little" and replaced it with an "X" to signify his unknown African ancestors.
Malcolm X was born.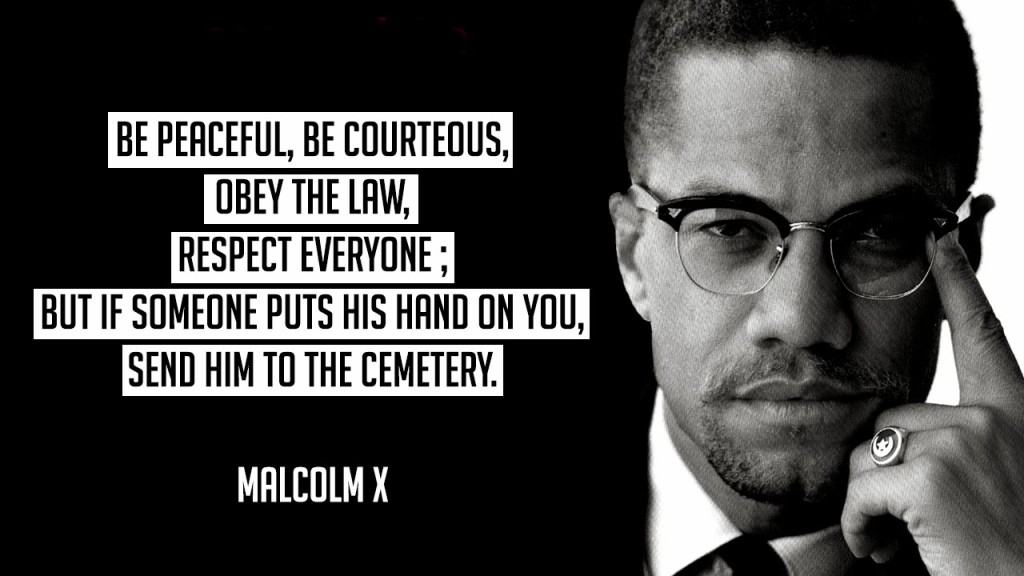 However, he was not through evolving.
After prison, Malcolm X went to Detroit and began mentorship under Elijah Muhammad the self-proclaimed leader and prophet of The Nation of Islam.
Malcolm X's intelligence and belief in the cause led to his quick rise in The Nation of Islam.
He was named minister of Temple No. 7 in Harlem.
He pushed the initiatives of the temple.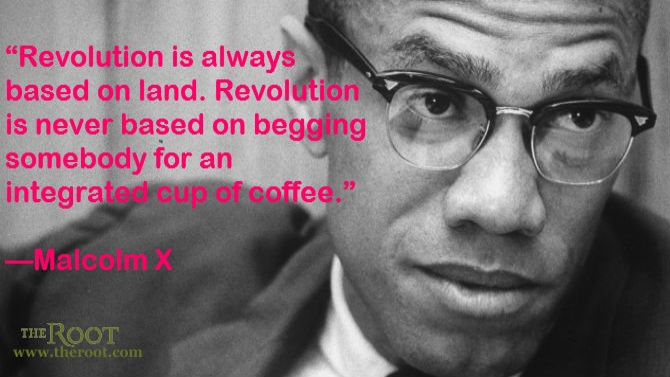 Malcolm X founded a newspaper Muhammad Speaks under the umbrella of the Nation of Islam holdings to promote the beliefs in the African American community. The newspaper became the greatest financial and educational outreach tool of the Nation of Islam.
Malcolm faithfully and aggressively grew and promoted the businesses owned by The Nation of Islam. He encouraged followers to strictly follow the teachings of Elijah Mohammed.
He was next named minister of Temple No. 11 in Boston.
Malcolm X was the key figure growing membership in The Nation of Islam.
Malcolm X founded new temples in Hartford and in Philadelphia.
When Malcolm was released from prison, the Nation of Islam had only some 400 members.
In eight years (by 1960) Malcolm X helped grow the church to 40,000 members – 100 fold growth.
To an outsider and sceptic it could be argued that The Nation of Islam began as a business and promotional opportunity for Elijah Muhammad the man, rather than the prophet.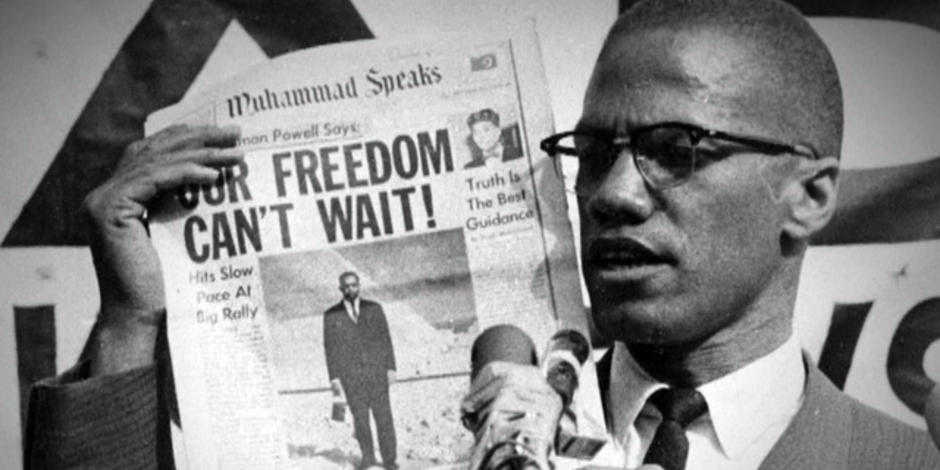 Malcolm X's rising star in The Nation of Islam shook things up. There was so much money and so many new believers that many in The Nation of Islam were corrupted and jealous of Malcolm.
In addition, it became arguable that the actual goal of the Nation of Islam had been to talk about creating a separate state for Black Americans. As Malcom's success made the goal appear realistic, Elijah Muhammad and his inner circle backed down from the message probably out of fear of reprisals from the United States Federal Government.
There was no other speaker like Malcolm X in the Nation of Islam. There may have been no other speaker like Malcolm in the world at the time. Certainly he was an orator the equal of Martin Luther King Jr. and Fidel Castro.
The difference with Malcolm was the other great speakers and leaders of the time had a consistent message. Malcolm spoke of equality for Black Americans through nonviolent protest. Fidel Castro spoke of a socialist Cuba for Cubans rather than one being financially bled by rich outsiders.
Malcolm's message though articulate and bold often changed.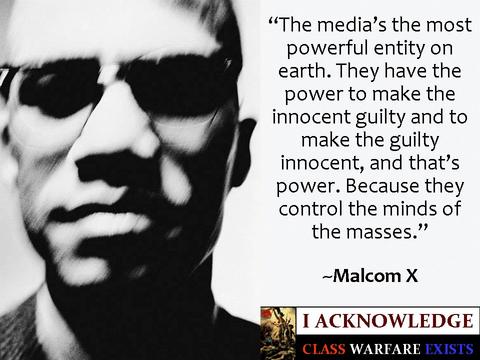 Malcolm X's message changed because the United States was changing. As acts of violence escalated against Black Americans, Malcolm X's own past had taught him that sometimes nonviolence just gets your house burned down and your father killed.
Malcolm X's message changed because the Nation of Islam was changing. Rivals within the Nation of Islam slandered him to Elijah Muhammad . Muhammad became jealous of Malcolm's fame and visibility. Malcolm X discovered that Elijah Muhammad was sexually abusing women in The Nation of Islam against his own teachings and the Nation of Islam. For Malcolm, in time, the ideals of Islam would have more of a hold on him than the sect's leader Elijah Muhammed. This would lead to an inevitable split between Malcolm X and the Nation of Islam – and an evolution in his message.
Malcolm X's message changed because he started to understand global Islam. Travelling to Mecca and networking with traditional Muslims, he discovered that the beliefs taught by The Nation of Islam often had little to do with historic and global Islam. Perhaps most importantly, he learned that Islam was not a religion that separated Black and White believers. In his Hajj to Mecca, Malcolm X saw black, brown, and white Muslims in harmony. A man in Detroit had taken a few well known beliefs of Islam and cobbled together his own belief system that named him a chosen Prophet of Allah and divine person whose teachings and orders were above question. Elijah Muhammad undoubtedly started with the best intentions. However, when power and money evolved his message and lifestyle, it opened his teachings up to question. Malcolm X was most certainly one who questioned.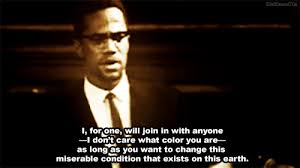 Malcolm X's message changed because he discovered that the issues of Civil Rights were horribly complicated. There were good White people and bad White people. There were good Black people and bad Black people. There was an attraction to black nationalism. There was an attraction to peaceful integration. There was no quick, easy answer to Civil Rights. There was no way to instantly heal a wounded nation. There was no way to give a quick fix to the problems of Black America.
Malcolm's message evolved because Malcolm X was evolving.
He broke from The Nation of Islam and founded his own sect based more closely on traditional Islam. He intended his new group t0 protect followers from the financial and sexual abuses he'd discovered in The Nation of Islam.
It is widely believed that Malcolm X and Dr. Martin Luther King Jr. were counterpoints during the Civil Rights movement. Martin Luther King famously stated once, "I feel that Malcolm has done himself and our people a great disservice".
The truth is that their relationship and place in history is more complicated. As Malcolm's ideas and initiatives evolved, his dialogue with Dr. King evolved. At the time of their deaths, they were getting closer and closer to the possibility of working together to continue effecting change. Together, how much power to effect change would they have offered a nation in pain?
Dr. Martin Luther King deserves his place atop the pantheon of Civil Rights heroes for having a strong position and holding true to it. He accomplished concrete results that probably no one else could have achieved. He was a leader who brought people together with a clear vision.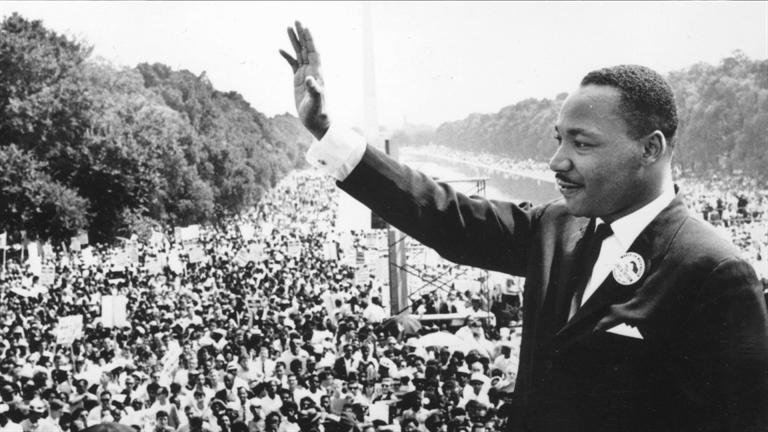 Malcolm X's legacy is less clearly defined.
At the time of his return from Mecca for the Hajj, Malcolm X's eyes were opened to the possibility of a nonviolent, non-separatist solution to the Civil Rights issue.
"The true brotherhood I had seen had influenced me to recognize that anger can blind human vision," he said. "America is the first country … that can actually have a bloodless revolution." – Malcolm X
Everything points to the fact that Malcolm was poised for his next transition.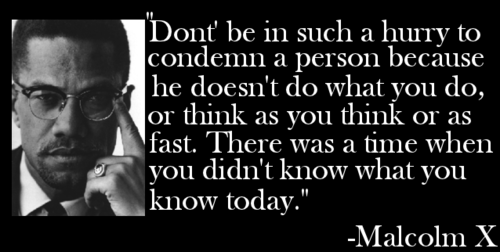 Malcolm may have been right on the verge of solidifying his Civil Rights Message and distilling it into a delivery that would propel the Civil Rights Movement forward.
His assassination may have cost the American People a lot more than the death of one controversial Black leader. It may have cost us a chance at achieving meaningful progress in Civil Rights more quickly and completely.
Malcolm X was killed by members of The Nation of Islam likely acting on orders of the children of Elijah Muhammad who were trying to protect their financial position and power in the Nation of Islam that was threatened by Malcolm X's new sect that would likely bleed members and money away from The Nation of Islam. After all, it was Malcolm X who had done the most to grow the membership and finances of The Nation of Islam. There are all kinds of theories about whether or not the police or government were involved. It's complicated.
When it comes down to it, that is the point. Malcolm X was complicated. The Civil Rights Movement was complicated. The American Government's response to both Malcolm X and the Civil Rights movement at large was complicated.
Who would Malcolm have become? What would he have accomplished?
We'll ever know.
Like many in The Civil Rights movement, Malcolm X was lost before his true momentum was reached.

We hope you have enjoyed today's Southeast Texas Black History article.
We'd like to leave you with a final installment of our African fashion series we've highlighted during Black History Month.
Today's fashions are modeled by local Black entrepreneur Velenta Mathew's, a Southeast Texas Early Child Development Specialist.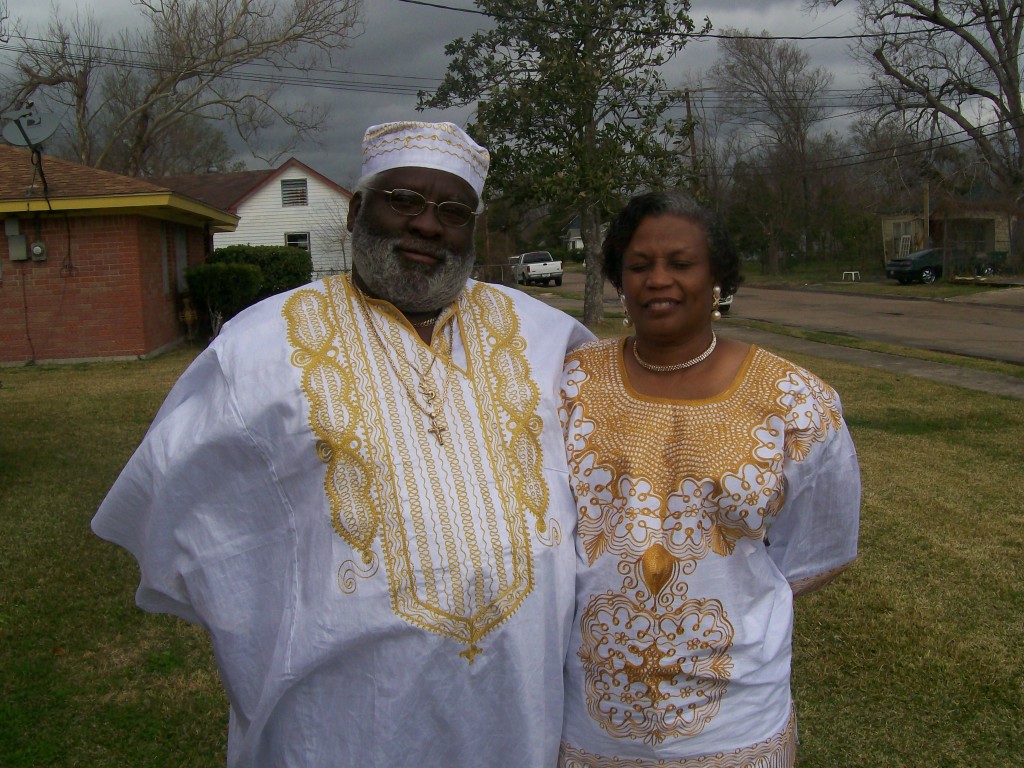 Velenta Mathews assists Golden Triangle families with helping their child reach their highest potential.
Would you like more information about Velenta Mathews and her early childhood development services?
Velenta would love to get to know you over a cup of coffee:
Velenta Mathews
Southeast Texas Early Childhood Development Services
Phone:409-920-0860
Direct Number:409-920-0860
Contact Velenta Mathews by E-mail: vinniemathews@hotmail.com
We have enjoyed bringing you some history and trivia during Black History Month in Southeast Texas.
We hope you have enjoyed it as well.
Are you looking for more Golden Triangle senior citizen news?
"Like" SETX Seniors on Facebook to receive the latest Southeast Texas senior news and inspiration on your cell phone or iPad.

Daryl Fant. Publisher SETXSeniors.com & SETX Senior Resource Guide. Host SETX Senior Expo Series.
Do you have questions about senior marketing in Southeast Texas? (512) 567-8068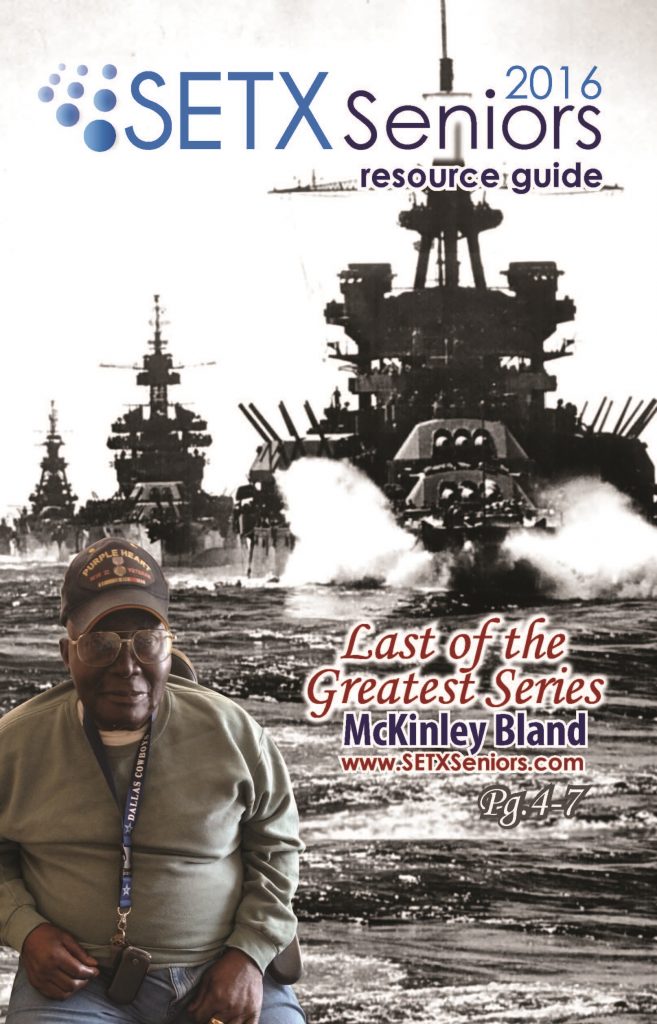 Would you like to know more about Malcolm X?
Read his autobiography or check out Spike Lee's epic film. Both will give you insights we were not able to share in this short article.