Southeast Texas Senior News – Creating a bathroom that maximizes safety without sacrificing style
Senior Lifestyles

–

East Texas and the Golden Triangle
Remodeling Your Bathroom for the Future
On Southeast Texas Senior News today we look at ways to create a senior friendly bathroom.
For today's Southeast Texas Seniors, individuality and independence are items we've valued for decades. As the years go by, lifestyle changes become a necessity, due to limited mobility and health concerns, but it doesn't necessarily mean giving up personality.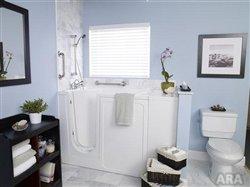 Aging in place, in the comfort of your home, is a priority for many SETX Seniors. Bottom line – we like living in our own homes.
That often means making adjustments to our homes. Some alterations can contribute to making your space feel more institutional and less "you." A balance between style and safety is the key – and finding it is easier than you might think.
One of the most hazardous rooms in the home for SETX senior citizens is the bathroom. Its slippery surfaces and tendency to be crowded with products and objects makes it a hazard for slipping, tripping and other mishaps. As you consider making alterations to your home that enhance security and safety, the bathroom is the logical place to start.
* Clear away clutter. Bottles and jars and grooming tools frequently crowd counters, closets and the corners of tubs and showers. Make use of hangers, shelves and wall-mounted baskets to keep things neatly tucked away, providing a cleaner environment that's also better looking and less likely to cause trips or spills.
* Bathe in safety. With limited mobility, moving in and out of the tub can be difficult, if not downright dangerous. One renovation solution to that problem is installing a walk-in tub. A nice walk in tub can help SETX Seniors maintain the look of your bathroom while enjoying greater ease.
* Choose rugs carefully. Bath mats and rugs are both functional and decorative. They can add a splash of color while also effectively collecting water that might otherwise pool on the floor and lead to slipping. However, rugs that don't stay in place can present a problem of their own and lead SETX Seniors to trip and fall. Opt for mats and rugs that have non-skid backing, but which still look harmonious with the rest of your bathroom decor.
* Bring things up to the right height. Your bathroom routine can present problems if your health limits your ability to move or bend easily. Having a commode and a sink at a higher level that prevents you from overexertion during your daily routine will add to the comfort and safety of your bathroom.
One of the most important parts of maintaining independence throughout aging is being able to uphold your sense of self. Taking a holistic approach to creating a home environment that meets your needs but still expresses who you are enables you to live life as you choose for a long time to come.
We hope today's edition of Southeast Texas senior news has been helpful for you.

Are you looking for more Senior news for The Golden Triangle and East Texas?
Stay tuned right here to SETXSeniors.com – over 400 articles each year for our Southeast Texas senior audiences.
SETXSeniors.com is your online Senior Newspaper in Southeast Texas.
Daryl Fant, Publisher

Senior Resource Guide

Call:

(512) 567-8068

SETXSeniors@gmail.com