Use Your Home to Stay at Home – Southeast Texas Reverse Mortgages
Retirement Planning in Southeast Texas
Is a reverse mortgage the retirement tool you've been searching for?
Local companies like Open Mortgage are helping Southeast Texas seniors weigh the options of adding a reverse mortgage to their Golden Triangle retirement tools.
The National Council on Aging (NCOA) offers Use Your Home to Stay at Home™, the official reverse mortgage consumer booklet approved by the U.S. Department of Housing & Urban Development (HUD).
Use Your Home to Stay at Home™ is a user-friendly guide to help older homeowners understand the pros and cons of a reverse mortgage. Federal law requires that all individuals who are considering a reverse mortgage receive unbiased counseling by a HUD-approved counseling agency and receive a copy of the NCOA guide.

You can also get answers locally from Open Mortgage, a leading Southeast Texas reverse mortgage provider.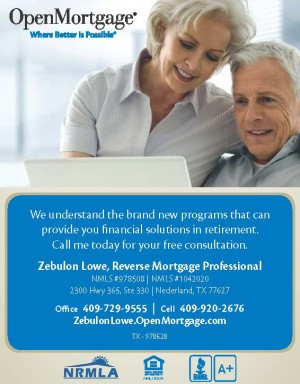 Also known as Home Equity Conversion Mortgages (HECMs), reverse mortgages allow homeowners aged 62+ to convert a portion of their home equity into cash while they continue to live at home for as long as they're able.
Over the past 20 years, a growing number of older homeowners have used this financial tool. Today, most borrowers use the loans for immediate needs, such as paying off their existing mortgage or other debts. About 33% want to supplement their monthly income, so they can afford to continue living independently in their own home longer.
"Use Your Home to Stay at Home™ is an older homeowner's best resource when it comes to examining whether a reverse mortgage is right for them," said Amy Ford, director of NCOA's Reverse Mortgage Counseling Services Network. "Along with reverse mortgage counseling from a HUD-approved counselor, the guide is a trusted source of information for older adults to understand their options before they commit to a loan."
The Use Your Home to Stay at Home™ booklet reflects the latest statistics and rules related to reverse mortgages. The guide can be downloaded for free at www.ncoa.org/RMBooklet. Housing and reverse mortgage counselors can order multiple copies at www.ncoa.org/RMCounselors.
"Reverse mortgages can be a useful piece of the puzzle when it comes to helping older adults make ends meet and stay independent as long as possible," Ford said. "However, they're not for everyone. It's critical that older homeowners and their families get unbiased counseling and information when considering whether to tap into their biggest asset."
As the only national aging organization that provides reverse mortgage counseling, NCOA brings a unique approach to helping older homeowners examine all of their options when it comes to staying independent. HUD requires that all counselors use NCOA's free, confidential BenefitsCheckUp® (www.BenefitsCheckUp.org) service to determine if reverse mortgage clients are eligible for an array of benefits that could help them pay for everyday expenses like food, medicine, and utilities.
Retiring in Southeast Texas these days can be challenging.
For many Golden Triangle seniors, Southeast Texas Reverse Mortgages can help.

In addition, NCOA offers other tools to help older homeowners make the most of their home equity, so they can stay economically secure while maintaining their independence for as long as possible. These include:
Home Equity Advisor (www.HomeEquityAdvisor.org): Developed with a grant from the FINRA Investor Education Foundation, this website offers a free Quick Check for older homeowners who want to explore how they can use their home equity to meet their retirement goals and avoid scams.
Reverse Mortgage Counseling Services Network (www.ncoa.org/RMCounseling): NCOA's trained counselors help older adults understand the costs and features of different types of reverse mortgage and evaluate the pros and cons for their individual situation. They also discuss other options, including public and private benefits, which can help seniors stay independent longer. HUD has approved NCOA as one of nine reverse mortgage counseling intermediaries.
For more information about Southeast Texas reverse mortgages and home equity options and resources, please visit www.ncoa.org/HomeEquity or call Open Mortgage for a local Golden Triangle perspective, answers, and expertise.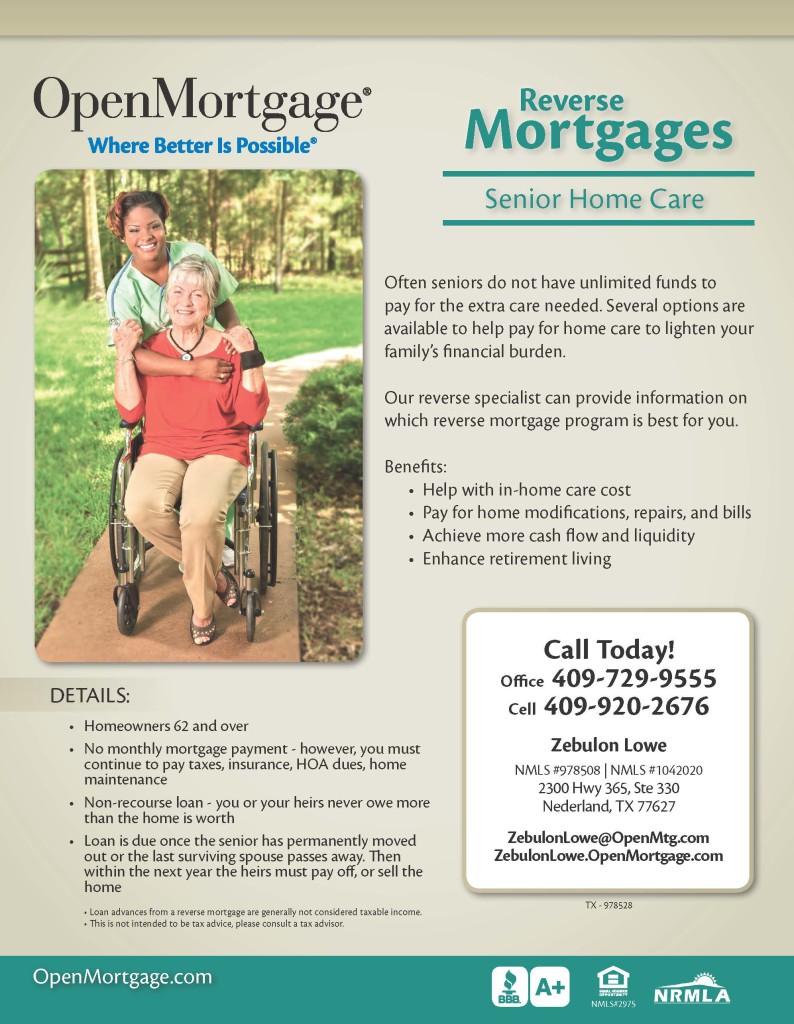 We hope you have enjoyed today's feature Retirement Planning in Southeast Texas – Is a reverse mortgage the retirement tool you've been searching for?
Daryl Fant, Publisher.

Senior Resource Guide

(512) 567-8068

SETXAdvertising@gmail.com