Active Seniors in Southeast Texas and the Lakes Area
Active Seniors in East Texas and the Golden Triangle
Seniors today are staying active, remaining in the work force well past retirement age, and are contributing  greatly to society.
It's important for everyone,  and especially for seniors,  to remain physically active on a regular basis. When elders are active, we help slow down our aging process, we help our bodies to be more flexible, our minds more alert and  staying active keeps many  illnesses at bay.
Are you looking for senior fitness opportunities in Southeast Texas or the Golden Triangle?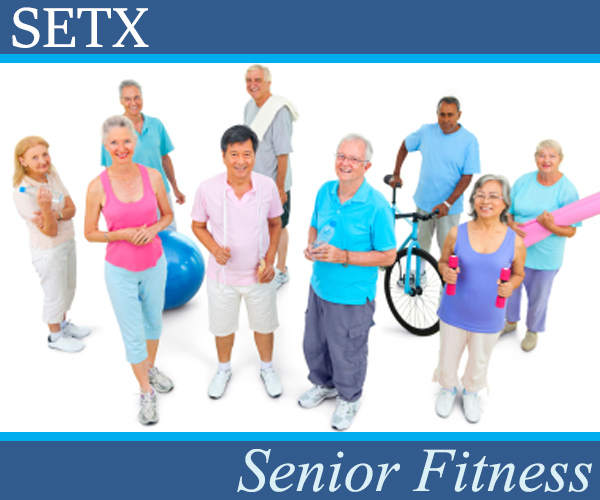 Our Southeast Texas area, with it's rich history, varied cultures, proximity to both the lakes areas and the beach, has a lot to offer for an abundant active senior lifestyle.
Are you looking for places to get out in nature?
Here are some of our favorite Senior Friendly East Texas Lakes and Golden Triangle Beaches.
As we share places to go, things to see, good things to eat, and so much to do – please let us know your favorites, and also  tell us about things we fail to "be in the know" about!
KOA Brookeland on Lake Sam Rayburn.  Are you looking for a "home base" to explore Texas' most famous big bass lake? KOA Brookeland offers tent camping, RV hook ups, and extremely comfortable cabins. We took our kids and their cousins to Sam Rayburn and stayed at one of the KOA Brookeland cabins. It comfortably slept six. We enjoyed a weekend of fishing their stocked ponds and Sam Rayburn, cooking and making s'mores on the campfire, and exploring historic Jasper TX.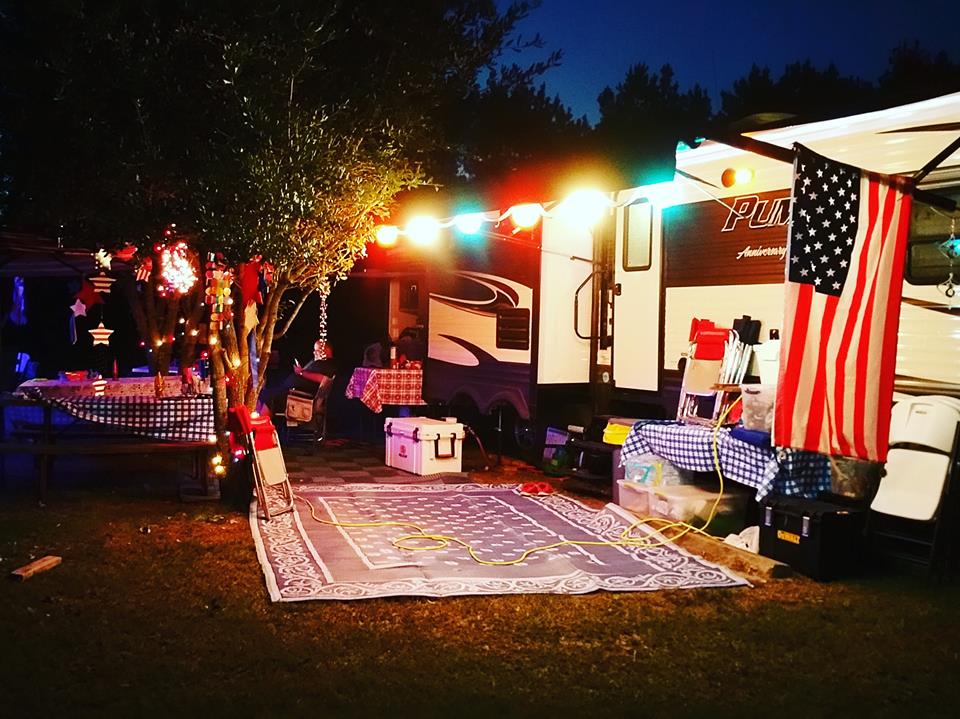 Martin Dies Jr. State Park.  Dam B isn't nearly as famous as Sam Rayburn, but it is an extremely valuable resource for those looking to fish, hunt, camp, hike, bird watch, or canoe / kayak. Our family has enjoyed Martin Dies Jr. State Park for tent camping, RV camping, squirrel hunting, deer hunting, hog hunting, teal hunting, and fishing for bass, catfish, and white perch. Are you looking for a cool family camping experience? Reserve one of their boat only access camping sites on the river. SETX Seniors Fishing Trivia: The Neches and Angelina Rivers come together. The intersection area typically offers great fishing for large mouth bass, Kentucky bass, and catfish. Which river is which? The muddy water is the Trinity River. The clean dark water is the Angelina River.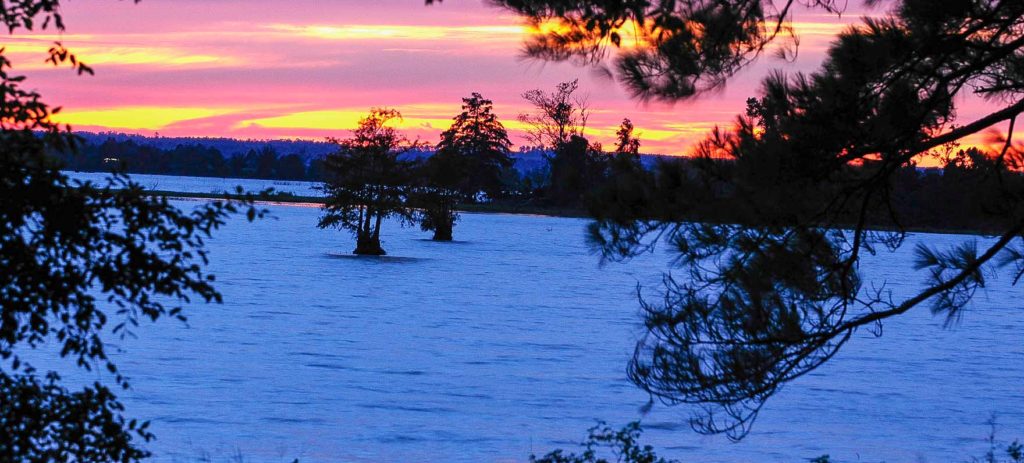 Walter Umphrey State Park.  Where can you camp in Texas and see Louisiana? Walter Umphrey State Park. This is a small park with a lot to offer. Something about it attracts people from different cultures. Take a walk through on a Friday night and you can see people from Bangladesh, Pakistan, Latin America, and all around East Texas and the Golden Triangle. The night time fishing at the pier is one of the main attractions. We have caught some monster red fish when the tide is moving. Walter Umphrey Park fishermen regularly catch speckled trout, flounder, sand trout, and croaker. You also have a shot at the occasional mangrove snapper or black tip shark. Umphrey State Park offers RV hookups. They are very popular though, so reserve in advance.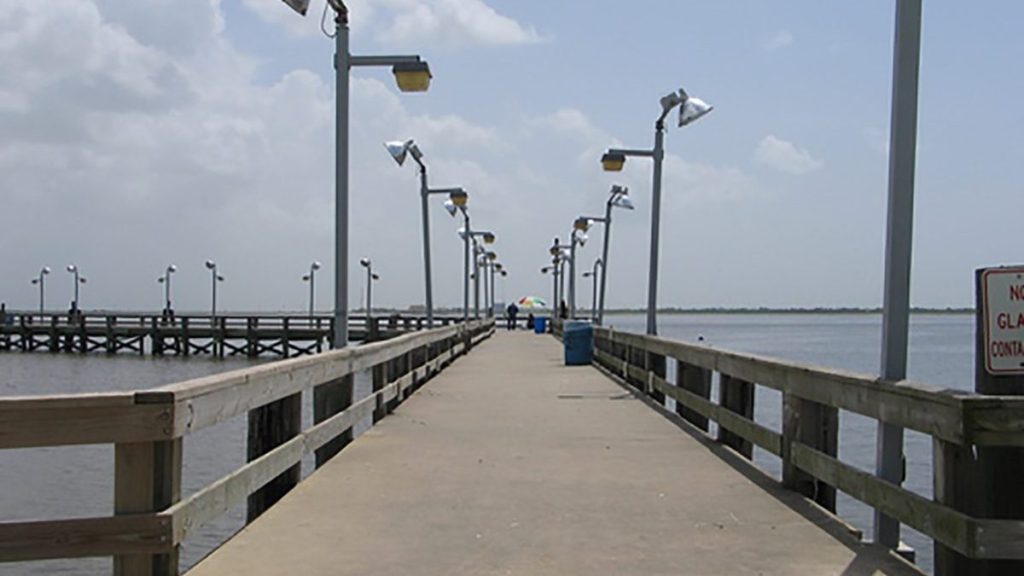 Pleasure Island Port Arthur. For my oldest son and I, this is our go to spot when we are looking for a quick saltwater fishing trip. Using live shrimp and Berkley Gulp swimming mullet (chartreuse or white) Pleasure Island may never again be what it once was. For live shrimp, we like Luck in a Bucket in Port Arthur.  On Pleasure Island, we have caught red fish, speckled trout, sand trout, black drum, and sheep's head.  SETX Seniors Fishing Tip: I regularly run into people who don't keep or eat Sheep's Head. Please know that these are the best white meat inshore fish after flounder. They take a few minutes longer to clean, but the extra effort is worth it for beautiful white firm flesh fillets. Catch them with live shrimp or small crabs near rocks, bridge pilings, or the Sabine Pass jetties. One of the things that makes Sheep's Head my favorite is that when they feel the hook they will sit forever and hope it disappears. When you start to reel in a sheep's head though, be ready. They break a lot of fishermen off with their sharp gill plates (also be careful handling them because of the gill plate and the big molar like teeth).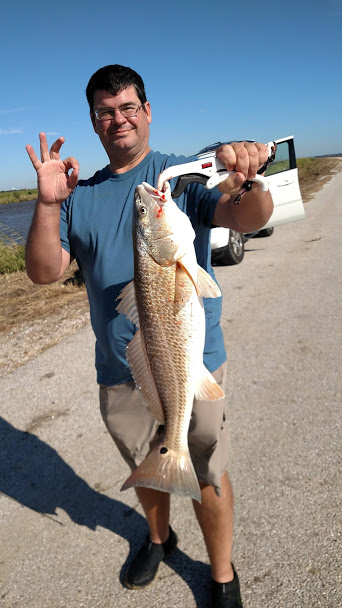 Sabine Pass Texas: There are at least three free boat ramps in Sabine Pass (left at the four way stop, the battleground, and Chicken Run). We usually launch at the boat ramp to the left at the four way stop. There is a garbage can, so please leave the area clean for the next visitors. There is also a covered picnic table and a porta potty. Launching in Sabine Pass gives you access to the Sabine Pass Jetties (Spanish Mackerel, red fish, black drum, sheep's head, speckled trout, sand trout). If your boat can handle a little rougher water, head to the end of the jetties for a chance at kingfish, red snapper, and mangrove snapper. We have hooked into (1) tarpon (too much fish for my tackle) and some unseen monsters that got away, one breaking a very large saltwater hook.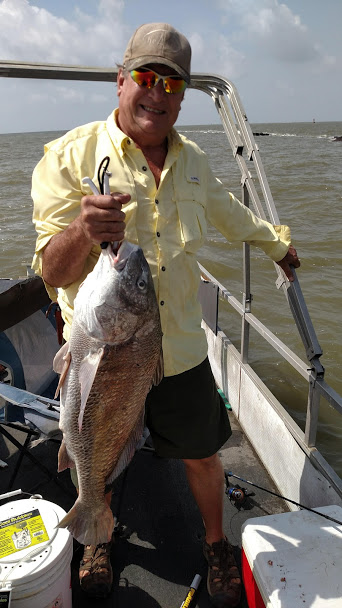 Keith Lake / Umphrey Boat Launch: Keith Lake can be an outstanding fishing location for flounder, redfish, and speckled trout. There is a FREE boat ramp (sign says Umphrey boat launch) with three ramps, plenty of parking, and garbage cans (please leave everything clean).  We DO NOT recommend the boat launch at the "white house". The lady who says she owns it is not a nice person.  SETX Seniors fishing tip: Anchor on the Keith Lake side of the fish pass. Use live shrimp for your best chance at speckled trout, flounder, redfish, and sheep's head. If the weather is cool, cruise the main lake looking for feeding gulls. If there is a school working bait, you can throw just about anything: Mirro Dine, Berkley Gulp Swimming Mullet, Johnson Silver Sprite Spoons, or your preferred soft plastics: Deadly Dudleys, Kelly Wrigglers (old school), Cocahoes, Saltwater Assassin.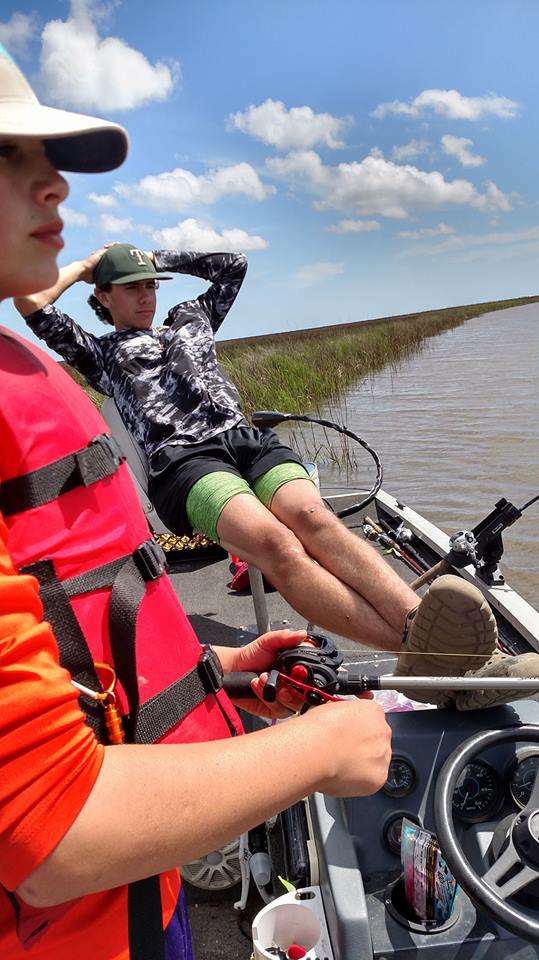 We hope this introduction to East Texas senior fitness and getting outdoors in the Golden Triangle has been helpful.
With over 400 local articles for seniors each year, no one offers more news, information, and inspiration for local senior citizens. Stay tuned to SETXSeniors.com.
Do you have an activity, fitness opportunity, or an organization you'd like our readers to know about?
Call or e-mail SETX Seniors.com today.
Daryl Fant, Publisher

SETXSeniors.com

Call SETX Seniors: (512) 567-8068

E-mail us:

SETXAdvertising@gmail.com