Southeast Texas Seniors: Don't miss out on the important sounds of your life – by Trinity Hearing and Balance Port Arthur
Hearing loss can be tough for Southeast Texas seniors. Trinity Hearing and Balance, the Port Arthur hearing aid specialists, understands.
Trinity Hearing and Balance has solutions for Southeast Texas seniors suffering from hearing loss.
Have you noticed the symptoms of hearing loss?
Conversations going unheard
Volume settings on electronics pushed to the max
Constantly asking speakers to repeat themselves
These are all common signs of hearing loss in Southeast Texas seniors.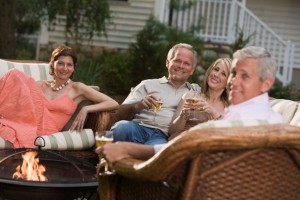 Hearing loss affects one in five Americans age 12 and older, and is the third most common health problem in the United States – with millions of Americans missing out on the important sounds of their life.
For Southeast Texas seniors, hearing loss can create troubles with relationships, workplace efficiency, and can even develop into emotional issues for Golden Triangle seniors who are unable to participate in or hear conversations.
Exposure to excessively loud noise is the main cause of hearing loss in the world today, and it affects all ages, not just the elderly. A variety of sources produce loud noises that can induce hearing loss, including machinery, electronics set at higher volumes, sporting events and concerts.
Knowing what causes an individual Southeast Texas senior's hearing loss is the key to protecting their hearing.
Here are some tips for Southeast Texas seniors with hearing loss to follow to keep hearing damage at a minimum so that you're not missing out on any of life's important sounds.
Wear hearing protection when around loud noises. Remember to bring hearing protection with you when going to concerts or sporting events. Keep ear plugs handy in your car, your wallet or your purse in case you happen upon loud environments unexpectedly.
Turn down the volume when you can. Keep music at a comfortable level on your mobile phone, in your car and on your home stereo.
Walk away from loud noises whenever you are able. You'll know that noise levels are too high when it's impossible to hold a normal conversation without shouting.
Prevention is key to good hearing health, but the good news is that everyone with hearing loss can be helped. The first step is to see an expert with Trinity Hearing and Balance Port Arthur, the Mid County hearing aid specialists, who can help you determine the cause and extent of damage to your hearing.
Trinity Hearing and Balance Port Arthur will also help determine the best hearing instruments or the best medical procedure available for your condition, so you can comfortably interact with conversations again.
If you are experiencing the symptoms of hearing loss, see Trinity Hearing and Balance in Mid County , the Port Arthur hearing aid experts, for a diagnosis and treatment so you can once again hear the conversations happening and participate in socializing with friends and family.